What is Chromebook?
As the technology world evolves really fast, many cool gadgets are designed to simplify the people's life in finding the information accurately and easily. Now it is shining time for chromebook. Some of us might know what chromebook is, but some others do not. Chromebook is a kind of laptop which uses Chrome OS by released Google as the operating system and this product will be a best deal for the
laptop for college
in assisting and supporting their related activities. In other words, this mobile computer emphasizes more to the web apps instead of offline apps and online storage as the media for saving data. The general difference between this systems and the other laptops is the process of computing is performed through different method. In other words, this gadget will lead you to try a new environment in using a portable machine by emphasizing Chrome as the operating system which is quite different compared to
Linux
and Windows.
If we take a look, what is special from this gadget? An innovative way to go through the technology advancement makes many brands put their fortune to this new 'rising star' chromebook. Those brands design and launch their own product based on their own innovative features and distinctive specs and in competitive price.
The difference in computing somehow confuses the users who just try to have this product. Because this portable computer still can do some limited things compared to th Windows or Lniux. But, if you are android phone users, you should find out the similarity in operating this system, so it won't bother you too long.
The positive side from this new portable book is, the applications used in Google such as Gmail, Gdocs, Google+, and others could be downloaded and run it through Chrome Web Store. Furthermore, this kind of gadget is considered as a 'safe from virus' and better in performance than any best performance laptop in Windows. In addition, you could 'buy' many a many software you want for your gadget from the webstore which this product has.

What Processor Needed?
When it comes to processors or CPU, most laptops use Intel or Mediatek. Those processors are considered the best trusted ones among the gadget industry. The CPU works efficiently to support the performance of the gadgets. But the 'brain' level type for this chromebook used, may vary. It depends on the function of the use and the budget. This product comes with low end, mid end, and high end processors.
The chromebooks which have high end processor will boost in performance and use. If you have more money to invest and use this product the complicated works, then the highest level CPU either from Intel or Mediatek may work for your purpose. The highest spec processors available may vary from Intel Core M or Intel Core i7 and Mediatek MT8173C. But, it will be your personal preference whether to use Intel or Mediatek. Of course, if it is compared between the price between Intel and Mediatek, Mediatek is more affordable and faster but the book which uses Mediatek as its processor, tends to drain the battery consumption so it takes more recharging and of course it won't be practical and efficient. But if you dig up from perspective of safe-energy, Intel works wonder to save up the battery consumption.
In terms of execution and application, the mid-range processor will provide you with most useful profitability situations and serve up some easy-going performance. The mid-range CPU can be seen in Intel Core i5, Intel Core M3 or M5.
But, if you have limited budget, Intel Celeron and Atom CPU will work great for basic operation and daily use such as typing, streaming and browsing, listening to music, or watching.

Which Brands do Launch?
When it comes to a hype of a new discovering and sophisticated gadget especially related to a new trend of laptop, many brands such as Acer, Asus, Dell, HP, Lenovo, Samsung, Toshiba, and many others compete to launch more sophisticated and affordable kind of series chromebook which will enliven the gadget worlds in the market.
There are many series of the products from different brands which are designed and created depending on the features, specs, and also budget. You will have many alternative options in selecting your portable machine because each brand tries to offer the customers by showing its pros specs and features compared to other brands available in the market.

How much is Storage Required?
Because this chromebook is created to complete the work through efficiency and practicality solid work especially for the mobile users, this product never provide big storage to save the data. The storage from this device is about 32 GB till 64 GB storage. This storage merely lets the users to do some basic functons such as streaming movies, editing document, or the regular internet browsing compared to Windows which run full operating system.
The storage memory whether 16 GB, or 32 GB, usually has been used for the built-in apps from Google and the rest of the storage is for saving files like music, videos, and documents (word, powerpoint spreadsheets, and etc), so only small size storage left. But, don't worry. The plus from this portable book, is the online storage. This product uses the Cloud-based storage or Google Drive, which is connected to Chrome Apps or users can buy that app in Chrome Web Store. These apps substitute the functions of our local drive. This cloud system storage allows you to save the big size movies offline or save the gigabytes files effectively and more efficient. It does the same to Google Drive, too. Wherever you go, as long as you have internet connection you can access your data in your online storage. If you want to add more additional storage, but Cloud and Google Drive, you can use external hard drives and USB.
What Display and Screen Resolution are Recommended?
Overall, this new item gadget in the market features of different screen and displays resolution. The brands provide the customers with the various display and screen resolution. If you have a very limited budget, there is 11.6-inch LCD display with 1366 x 768 screen resolution. It is the standard screen resolution display recommended for this gadget.
But, if you are looking for a mid-end budget portable computer, 13-inch LCD display with 1920 x 1080 full HD screen resolution will show you with sharper images, details, and graphics.
But, if you want to invest your money for a high end unit display, a way bigger such as 14-inch and 15-inch LCD displays with a quad HD 2560 by 1440 pixels or a 3840 by 2160 screen, will give you more benefit in sharpest performance screen resolution who need the best from this product.
But somehow, many brands in innovative way design this book with small LCD display with a quad HD pixels or on the other hand, a bigger LCD display with standard screen resolution. It is a matter of preference and also the budget you have.

How Long does the Battery Life Survive?
One of the specs which is important to consider is the battery life. The performance of this chromebook will depend on how long the battery life manage to survive during normal usage. It will be more inconvenient for the mobile users if this device only has very limited battery life so wherever they go they forced to bring the charger in their small bag. That's not practical and efficient way to enjoy our days.
The more battery life can last, the more charming this gadget should be. Because this product seems promising toward the practical work and being efficiency toward the users who work a lot. If the battery life could last long, the users never need to bring the charger and have to recharge the battery life all the time.
Most portable systems coming with different and various battery life. You can find the item which has 6 hours battery life till the one which has 15 hours battery life. But it depends on the budget and battery capacity. The more you pay the longer battery life feature yo might have.

How much Budget Needed?
You get what you pay for. Those words can be related to buying a portable gadget. Even though, chromebook is cheap in price, you will need to pay more if you want to have the best performance satisfaction and specs. But for you who have limited budget, there are many cheap chromebooks from different brands available in the market. The budget laptop may vary. It ranges from 150$ to 1100$. The cost will also depend on the specs and popularity of the brands offered.

What are the Advantages?
Chromebook is another developing type of laptop which emphasizes more easy to use and efficient work. This OS will be more beneficial for you who love to do outdoor activites such as traveling and mobile working. The users who are interested in trying another new adventure of laptop must try this gadget because there are many advantages you can get.
This gadget should be more beneficial if it is used online because the apps in this product uses Chrome and other apps from which ease the users to access. Those apps needed can be downloaded in Chrome Web Store and installed with internet connection and we already know that all apps are free because Chrome Web Store is an open source which is easy to access as long as you are connected to internet. If you are mobile type, this type of product will support and ease you to do 'online' things.
Furthermore, this Chrome gadget is convertible, lightweight, and easy to use. Besides that, this product has the long battery life and the data can be saved in its local storage (offline) or in cloud-based storage (both online and offline). Therefore, it is easy to carry on whether during travelling or working.
Last but not least, yet the most important thing from this gadget is this product is an inexpensive laptop which fits in the budget of the customers so that everybody who wants to have a practical and efficient laptop can buy this portable Chrome gadget.

What are the Disadvantages?
The advantages of Using Chromebook for mobile and internet connected users, can become the disadvantages for some users who want to have full operating system in accessing and computing and do not have internet connection. This item is also not for more complex gaming, in which the old laptop can perform. But, if you want to play a game with this portable one, the games provided are listed and installed in Chrome Web Store.
This portable book comes with a very limited internal memory storage. Most of laptops come with big size hard drive storage like 500GB till 1TB, but this item has limited storage hard drive. It is about 32 GB till 64 GB internal memory. The users can't save more big sizes data like movies or download the app which takes the internal memory storage. If the users want to have a bigger storage, it should be supported with others types of storage such as online Google Drive and Cloud Based Storage or through external hard drive and USB.
Mostly chromebook performance uses internet connection. It will be such a major deficiency for those users who live far away and there is no internet connection in their place. Those built-in apps in this product will also have minimal usage since there is no internet connection.

Chromebook might vary and it is a cheap price gadget, too. But choosing the one with great specs and features can be quite confusing if you don't know what we want to consider from. But if you know what you want, then your problem can be solved easily. To help you picking a good product, we list some recommended and best chromebooks from different brands you may consider. Just take a look.
The Top 10 Best Chromebook December 2020
ASUS Chromebook Flip C302 DHM4

The Flip C302SA is easily becoming my top recommendation here because of some reasons. With the price for under 500 dollars, you would get a decent machine for doing work and enjoying multimedia purposes at the same time. The chassis itself is completely made from aluminum material, so never worry about the build quality here. It even holds few bumps and drops test when I did make a test on it for couple of times. The aluminum material looks solid and premium. Carrying it over and showing it to your friend will never make you shame at all. I think the silver white finishing suits nicely for both of business users and students. The 12.5 inch screen has 360 degree hinge system that dependable for turning it into the tablet mode and other multiple modes. The portability is always the top selling point for the 2 in system that not available on other kinds of laptop.
The application support is basically the main reason that makes people keeping away from Chrome OS. If we compare the support with Windows, then the result should be so different here. Windows is full with many apps support and games while Chrome still have limited support from majority of developers. For this case, Google has nice solution for boosting their software issue. Now the company lets you on installing of Android apps into your Chromebook. Some important software like Microsoft Office Mobile, Adobe Reader, and other productivity software runs perfectly without any issue. It runs better here basically because the hardware is better in comparable with Android smartphone or tablet and the performance is not really issue here. Just start of playing and using the Android apps and games in bigger screen only on this product. I am sure users will be surprised on how it runs and satisfying their needs.
| ASUS Chromebook Flip C302 DHM4 | Main Specs |
| --- | --- |
| CPU | Intel Core M3 2.2 GHZ |
| Graphics | Intel HD Integrated Card |
| Display Size | 12.5 inch |
| OS | Chrome OS |
| Memory | 4GB DDR3 Memory |
| Storage | 64GB EMMC |
Last price update: 2021-01-04 16:02:30
back to menu ↑
Google PixelBook GA00122

For some many years, Chromebook is always far in comparable with Windows in term of hardware and packaging. Many of products available right now are mostly the ow end to the mid end model and we have not seeing any high end products even until know. As the result, many people think Chromebook as just a secondary machine or just a cheap product although not all of them like that. Well, Google is trying to change their opinion with their new lineup series. The company has just announced the mighty Google Pixel phone and now they back again with something different. Google Pixel Book really changes our opinion about this system. The design is simple, but yet looks stunning. Every rounded and brushed are well made. It feels light and easy to carry around. I was even able to hold it with my single hand although opening it with single hand is harder to do. The thing is possible, but takes time to do it.
Opening the lid we are going to be welcomed by one of the best keyboard and touchpad available right now. The touchpad is covered with glass and feels responsive on navigating through the system. The keyboard also giving the similar impression where the keys are tactile and do not require much power to press it. The backlit support is back and making it completely usable for typing in the darker environment. Another thing that impresses me here is the display. The screen is able to produces of 235 pixel and 400 nits of brightness. The brightness is very bright even with the minimum setting. I love on using it outdoor because I do not need to make any adjustment at all to the setting. With the impressive design, powerful hardware, and decent price, I think its hard not to get tempted by this product.
| Google PixelBook | Main Specs |
| --- | --- |
| CPU | Intel Core I5 processor 7th Gen 1.2 GHZ Up To 3.3 GHZ |
| Graphics | Intel HD Integrated Card |
| Display Size | 12.3-inch |
| OS | Chrome OS + Android App Support |
| Memory | 8GB DDR4 Memory |
| Storage | 128GB SSD |
Last price update: 2021-01-04 16:04:05
back to menu ↑
ASUS Chromebook Flip C213SA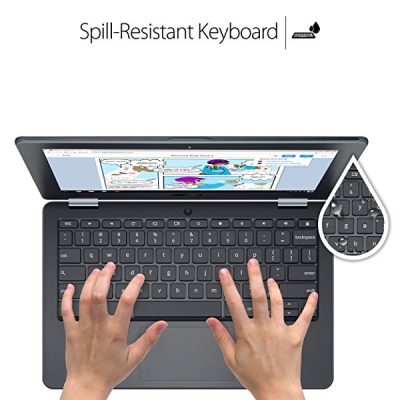 The Flip C213SA is the perfect option for students or kids laptop. The 2 in 1 system runs of Android application and coming with ruggedized design. The packaging is not that beauty, but the build quality is top notch. The entire of edges are covered of some kinds of rubbers and frame that easily handles any bumps or drops. For the test, I drop it from 3.9 feet and everything is still working well without any issue so far. The body gets scratched, but everything works normally like it was. The quality is not just stopped there because you need to see the keyboard. The keyboard surface is covered with anti-spill material that covers with from water. For some reasons, we often put our drink near our notebook and sometimes we just spill it into the keyboard.
For supporting our productivity, the system is equipped with Intel Celeron N3350 and 4GB DDR4 RAM. The processor itself is considered as new and just introduced by Intel for swapping their old Celeron processor. For the first time, Intel redesigned their low end chipset and the result is shown here. The performance is 30 percent better in comparable with Intel 28 thousand series. It produces more power, but with less power consumption thanks to the 14 mm fabrication. The result is making impact to the battery life that now slightly better. I mostly get of around 12 hours of battery life in single charge. ASUS put of type-C port that not only usable for transferring and moving the data, but also great for charging the device through the power bank or battery pack. This feature is great especially when we are on travel and cannot find any wall charger around. Here, just connect it to the battery pack and the problem for the battery is solved.
| ASUS Chromebook Flip C213SA | Main Specs |
| --- | --- |
| CPU | Intel Apollo Lake N3350 With Dual-Core |
| Graphics | Intel HD Integrated Card |
| Display Size | 11.6-inch |
| OS | Chrome OS |
| Memory | 4GB DDR4 Memory |
| Storage | 32GB Flash Storage |
Last price update: 2021-01-04 16:06:52
back to menu ↑
Acer Chromebook 15 CB515

Do you think that 13 inch or 12 inch device is too small? Then you have to make your way here because the CB 515 has a satisfying 15.6 inch screen that perfect for the business users. With the price for only under 300 dollars, I am so impressed that Acer manages to put everything into this packaging. The company really targets low budget consumers and it works as I heard so many good reviews from both of users and reviewers. The 15 inch display is not the best one here, but the brightness and images qualities are still acceptable. I never find any pixelated images or text although the 1366 x 768 resolution is not that fit to put on bigger here. Many people will hope for better resolution but the price is talking here, so no complain from me.
For a big machine, I think this thing is still easily to carry around and put it into your small bag. The measurement for the chassis itself is measured at 0.95 x 15.08 x 10 inches with total weight for around 4.3 pounds. The body is mostly created from plastic, but still very much durable and capable for long usage. I really have no bad thing to say here including the port connectivity that complete, the battery that should last for up to 10 hours, and the keyboard itself that big and comfortable for typing. The only problem I found here is on the internal storage that really small. The 32GB storage is small and only fit of small quantity of things. Most of activities now are done on browser, but still more storage is needed for taking care our data and important stuff. I recommend you check it further and see how it works.
| Acer Chromebook 15 | Main Specs |
| --- | --- |
| CPU | Intel Quad Core Celeron N4200 up to 2.5 GHz |
| Graphics | Intel HD Integrated Card |
| Display Size | 15.6-inch |
| OS | Chrome OS |
| Memory | 4GB DDR3 Memory |
| Storage | 32GB EMMC |
Last price update: 2021-01-04 15:55:52
back to menu ↑
Acer Chromebook Spin 11

The Spin 11 would never make you wow with its design or the specification on the inside. But, I still love how Acer makes everything still looks classy in such a cheap price. The look is very simple without any detail except for the company logo that placed on the lid. Luckily, the black finishing is adding the bit sense of premium and making me feel easy on carrying it over and showing it to my friend. The 11.6 inch screen is small, bring more portability. The device is so light and even single hand could lift its entire base. Any small bag should fit it easily without any issue. The small display features of 1366 x 768 resolution with TN panel and backlit support. The backlit does help on keeping the brightness for outdoor activity. I still need to adjust the brightness little, but still usable for outdoor usage.
On the other side, the keyboard is giving mixed impression. The keyboard is small although all of keys appeared in normal size with exception for the navigation keys that small and sometimes hard to reach. Here, any person has to get used with it for a while. I was able to type for more than 87 words per minute with 1 percent error rate on my second attempt on using it. The result is not bad for any daily usage. The 32GB storage is going to be that small for saving lot of stuff and for this case they provide of micro SD slot for expanding storage to your needs. I think by adding 32 or 64 GB SD card is more than enough for solving this issue. Beside than the micro SD slot, the rest of connectivity is considered as well complete. There are double USB port, HDMI port for connecting it to the bigger screen and proprietary port charging the device.
| Acer Chromebook Spin 11 | Main Specs |
| --- | --- |
| CPU | Intel Dual Core Celeron N3350 Up To 2.4 GHz |
| Graphics | Intel HD Integrated Card |
| Display Size | 11.6-inch |
| OS | Chrome OS |
| Memory | 4GB DDR4 Memory |
| Storage | 32GB EMMC |
Last price update: 2021-01-04 15:53:43
back to menu ↑
Samsung Chromebook Plus XE513C24-K01US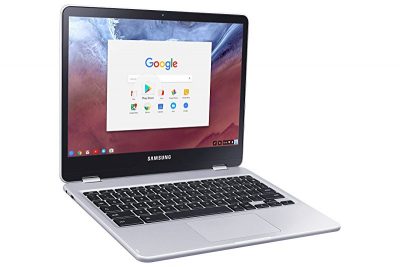 The Samsung Chromebook Plus is really the true step for use on seeing the future of Chromebook. The Convertible design allows you to transform it into multiple modes including the tent mode for streaming or watching movies with your friend, the tablet mode for searching or browsing through the internet and the traditional mode itself that useful for finishing school project or work. The entire body is designed from aluminum material that looks premium and yet durable. I tried to swap the lid hundreds of times and it really holds the base pretty well. THE same thing goes to the base itself where the feet make the good base for the system. The keyboard on the inside is one of the best one to see here. It feels comfortable and has a decent travel distant. All of keys are appeared in normal size although the chassis is quite thin.
Move to the next part, I think you should be satisfied on seeing its screen. The 12.3 inch display is featured with 2400 x 1600 resolution that easily blown my mind. The images qualities are impressive and so full of details. Just imagine and how you feel when having a 2K resolution in such a small screen. The quality is not just stopped there, I did notice the display ratio is quite different here. The company uses of 3:2 screen ration that balanced the usage on between the traditional mode and the tablet mode. With the screen ratio, using it on the tablet mode feels more comfortable and really like holding an Android tablet or IPad Pro. They really think all of the aspects to make people have great experience on using it. One last thing to talk about here is the stylus pen features. The screen supports of high pressure level and dependable for taking note and navigating through the system. The pen is really identical on what we having on the Galaxy Tab S in term of packaging and usability. I am so happy they include it on the package and do not force us to buy it separately.
| Samsung Chromebook Plus | Main Specs |
| --- | --- |
| CPU | OP 1 ARM Based Processor 2GHZ |
| Graphics | Integrated Card |
| Display Size | 12.3-inch |
| OS | Chrome OS |
| Memory | 4GB DDR3 Memory |
| Storage | 32GB Flash Storage |
Last price update: 2021-01-04 16:05:31
back to menu ↑
Lenovo 500E Chromebook

I specifically add Lenovo 500E to the list because of the keyboard performance that better than any similar product. The Ideapad series has been famous with their quality for many years and always dependable for getting low budget laptop. Lenovo is trying to do the similar thing with this one. As soon as I unbox it for the first time, I see that the packaging is quite better here especially on the hinge system that sturdier and tighter. My friend was really impressed on what Lenovo did here. The build quality is not a matter here and should endure any punishment very well. Just do not expect much on the look and you will be okay. Move to the inside, there is 11 inch screen that sits nicely and waiting for you to turn it on. The HD resolution with TN panel is common here and quite much usable for doing any task and streaming movies.
On the top of display, there is an HD camera that works greatly on doing video conference with Skype. The color effect is bit washed so never ever taking of picture there. Well, I guess people are no longer taking photo on laptop, so not a big problem. One big thing that really impresses me like I said before is the keyboard. The 11 inch screen allows them to fit bigger keyboard. The layout and keys placement are typical of Lenovo and not difference like the company did on Windows. The keys are soft to touch and my hands move naturally on typing what I need. My error rate on typing is reduced as the travel distant is not too far or too close. The battery life is giving me standard time for 11 hours usage with 70 percent of brightness setting and runs for a day with light usage.
| Lenovo 500E Chromebook | Main Specs |
| --- | --- |
| CPU | Intel Celeron N3450 1.1 GHz |
| Graphics | Intel HD Integrated Card |
| Display Size | 11.6-inch |
| OS | Chrome OS |
| Memory | 4GB DDR4 Memory |
| Storage | 32GB EMMC |
Last price update: 2021-01-04 15:50:58
back to menu ↑
Samsung Chromebook Pro XE510C24 K01US

The Chromebook Pro is basically the enhance version of the Plus version we have talked before. It features of better hardware with almost no difference in term of design. The packaging is so similar in every rounded and placement and with only exception on the finishing touch. Say goodbye to silver color and say welcome to the premium black finishing. I do not really know why they swap back the color, but I guess the main reason is because many users prefer the black one rather than the silver one for some reasons. Another thing to find difference is the display. The display has similar resolution up to 2K, but more the brightness is improved better than before. Well, the 400 nits brightness is really bright even for the minimum setting. Using the minimum setting is recommended for saving the battery life.
For adding better experience on surfing the Chrome OS, the Intel Celeron processor is nowhere to find and replace with Intel Core M 6Y30 that far better. The performance is wise here where opening more than 15 tabs on Chrome not making any slowdown at all although I streamed 1080p videos at one of tabs. It runs smooth without any issue on both running native and Android application. The 4GB RAM should be enough for handling apps at the same time without have to upgrade it later. The operating system is designed to run on low specs hardware and that is the reason why see better performance than Windows although the hardware itself is pretty much similar. This is a decent choice for anyone who just into with Chromebook and searching for the best choice. The price is quite expensive than most similar products, but worth for future saving.
| Samsung Chromebook Pro XE510C24 K01US | Main Specs |
| --- | --- |
| CPU | Intel Core M3 6Y30 0.9 GHZ |
| Graphics | Intel HD Integrated Card |
| Display Size | 12.3-inch |
| OS | Chrome OS |
| Memory | 4GB DDR3 Memory |
| Storage | 16GB EMMC |
Last price update: 2021-01-04 16:02:00
back to menu ↑
HP Premium High Performance 14 Inch Laptop

HP is crazy enough to put of this device for under 300 dollars since the specification on the inside is worth more than price. If you get tired with old HD display, then this one has better solution for you. The 14 inch screen is featured 720P resolution that kills other competitors. The HD screen is far in comparable with what high end model promises here, but worth for streaming your favorite Netflix series. The color is not washed at all and surrounded with great details. Streaming the trailer from the Last Jedi is enjoyable thanks for the details and natural colors it brings. The brightness on other case is quite dim and I think they do it intentionally for saving the battery life as the full HD resolution.
For doing work, the Intel Celeron N3350 and 4GB RAM are going to be your friend for a while. It handles multitasking very well without any stuttering or lags during the process. The system is free from any bloatware and fit only useful apps from Goggle. All of our activities here are connected to our Google account and fully integrated with our Android smartphone. People can also connect their device here and then receive all of notification and replying message directly from this laptop. This is what Microsoft always fails to provide to their consumers. It gives you easy on doing our work without have to get bothered by notification from our smartphone.
| HP Chromebook 14 | Main Specs |
| --- | --- |
| CPU | Intel Celeron N3350 Up To 2.4 GHz |
| Graphics | Intel HD Integrated Card |
| Display Size | 14-inch |
| OS | Chrome OS |
| Memory | 4GB DDR3 Memory |
| Storage | 32GB EMMC |
Last price update: 2021-01-04 15:52:16
back to menu ↑
Samsung Chromebook 3 XE500C13-K03US

The Chromebook 3 is basically the cheapest product you can afford from Samsung right now. It brings many similar things like the Pro version except for lower hardware and small screen. For only 200 dollars, you are going to receive a decent machine for enjoying multimedia and doing all of stuff. The Intel N3060 processor is new and 4GB RAM is the standard right now. There is no way to find the similar specs with the same price on Windows. The Chrome operating system is already cheap and this is the reason why the companies could play with the specs further. Samsung has done wonderful job on making it appealing to everyone and not just taking any specific consumers.
Many users do not want to spend more than 1000 dollars for just getting a laptop. Moreover, people also really not in need for high performance devices as what they just do are only light activities like browsing and editing document. The Intel Core I5 or I7 are not needed here as those activities not demanding in term of power. Rather than throwing your money, this one is better for those kinds of things. If you are in tight budget and finding hard to make a decent choice, then just take back it home and be surprised with its quality.
| Samsung Chromebook 3 XE500C13-K03US | Main Specs |
| --- | --- |
| CPU | Intel Celeron N3060 1.6 GHZ |
| Graphics | Intel HD Integrated Card |
| Display Size | 11.6-inch |
| OS | Chrome OS |
| Memory | 4GB DDR3 Memory |
| Storage | 32GB EMMC |
Last price update: 2021-01-04 16:00:41
Final Thought
Those are information I know about it. Many people think of Chromebook as bad choice because the lack of application support and its unpopularity among the consumers. Well, the thing is what you think is now the development for the OS increased now and Google now even adds Android support fully integrated into this new operating system. There is no any reason for stopping users on at least trying it especially when the price and specs are much higher than Windows. I have put lots of decent options for you and it's time for you on taking the one which is best to your needs. I just hope the information is useful for you and please leave any comment for further assistance.