Computers or laptops support of our every action in our everyday lives, and when you're looking to purchase a new system sometimes you will find yourself lost in a sea of options. This can be a bad and a good thing considering years ago there weren't a lot of options to see in the market, and most of these tech gadgets were usually expensive. You were out forced to spend some amount of money, and most of the time you were buying something that didn't fit all of your needs and taste. Thankfully, we are at a time when the market favors where buyers can research our options more effectively thanks to the ease from internet usage. Many people like to prefer smaller laptops because they are easy to take and still promise of decent power that you want to accomplish your everyday works. So, it is no surprise that many manufacturers are attempting to make the smallest laptops as possible in the market to suit users needs.
Initially, when deciding on purchasing a small and portable laptop, you need to be willing to give up some features or hardware that are important to you. The truth is, these computers are very easy to take with, but due of their size they don't have enough room for everything. For example, there are many smaller devices that have a powerful RAM and significant memory, but their speakers and upgrade options are not of the top quality one. Even though you have most of the features that you want, you are not going to have them all. So, what you actually have to worry about are the features that are need to maintain your tasks. Are you a student that is just looking for a laptop to get your through college, or are you a designer that is going to have to run memory heavy programs? You need to determine exactly what you will be using your small device for before you start shopping.
Top 10 Best Small Laptops on the Market January 2021
When we were compiling these list, we spent many hours filtering through prices and customer devices to pick the best choices. We put in the effort to make your shopping process that much easier. Below, you see the top 10 choices in the market, and you're sure to find a model that suits your needs.
Lenovo Yoga 730

Let's start the list by seeing the product from Lenovo. Yoga 730 is a very nice companion for your travel and business. The versatile and light design allows you to move around easily without need to think much about the weight. The 360 degree system is also considered as nice as you could transform it into multiple modes like working in traditional mode, watching or streaming movies in tent mode, and doing the presentation in tablet mode. All of that great stuff is into a single device with an affordable price. I guess it should be hard not to get interested with it. I have seen so many great reviews from both users and reviewers and that is the reason I recommend it to you.
The performance and battery life are not issue here. The newer processor from Intel offers a better power consumption as it makes great impact on battery life. Browsing through the internet will let the battery runs for around 8 hours and 23 minutes without any break and while connecting to the WIFI. I was so surprised that the battery can last that longer. That overwhelming battery then later combined with 256 GB SSD for saving and installing multiple applications and 8GB RAM for running and opening applications at the same time. My only complaint here is the lack of new modern ports.There are USB 3.0 and 2.0 ports, but the USB-C is nowhere to find here. I really hope the company would improve this matter and it will be a perfect device. Well, the USB 3.0 ports are more than enough for using mouse and transfer data at the same time, so do not worry about it. Just make sure to check it when you have time.
| Lenovo Yoga 730 13 | Main Specs |
| --- | --- |
| CPU | Intel Quad Core I5-8250U 1.6 GHz |
| Graphics | Intel HD Integrated Card |
| Display Size | 13.3-inch |
| OS | Windows 10 Home |
| Memory | 8GB DDR4 Memory |
| Storage | 256GB SSD |
Last price update: 2021-01-04 15:52:05
back to menu ↑
HP Spectre X360-13T

If we talking about slim and light devices, then the list should be really empty without filling it with Spectre series. The Spectre X360 is a nice choice for portable machine from this company. The product is actually quite new in the market where it's first released in 2015. But, never ever try to ask about the quality because there are so many great things to find here. The dimension for the body is measured at 12 x 8.6 x 0.5 inches. Even though the package is quite slim, the company was still able to fit few nice ports here. On the both sides, we can find single USB port and dual Thunderbolt ports. The ports are quite limited, so make sure you prepare to bring the converter anywhere you go. The package is already that slim and that is the reason they cannot fit it more.
For supporting your productivity, there are two important components to consider. The first one is display and second one is keyboard. For keyboard, it's supported by comfortable keyboard that has 1.3 millimeters travel keys. I never have any problem and able to type for more than 90 words per minute with very minimal error rate. The keyboard is quite shallow and you need to get used with it for few hours. Then for display, the images qualities are great and crisp. There is stylus pen included for taking note and navigating through the system. The brightness is great although not the best one I ever test before. At least, we do not have to puss it into the maximum in order to use it outdoor. I leave the link below if you want to see it closer.
| HP Spectre X360 | Main Specs |
| --- | --- |
| CPU | Intel I7-8550U 8th Gen 1.8 GHZ |
| Graphics | NVIDIA MX150 |
| Display Size | 15.6-inch 4K |
| OS | Windows 10 |
| Memory | 16GB SD Memory |
| Storage | 512GB SSD |
Last price update: 2021-01-04 16:05:20
back to menu ↑
Apple Macbook Pro 13"

Apple is still seeing as a great competitor by many of companies even in the 2018. The new Macbook Pro appeared to be popular device although with its controversial where the standard USB is gone. But, in term of portability and flexibility, I guess this probably one of the highest rates one in this year. The design is much slimmer with the weight that only 3 pounds and the thickness at 0.6 inches. This thickness is really slim and only bit heavier and thicker than Dell XPS 13 and Spectre 360. The exterior and interior itself are similar and we will never see any difference in term of look. The package is already nice I guess and there is no reason for the company to break it.
In another sectors the improvement are seen everywhere. For performance, it uses of Intel 8th gen processor and 8GB RAM. I did some test and the result is great. Streaming 1080p videos while opening multiple tabs feel smooth without any lag. Watching my Netflix series are enjoyable with Retina display that looks comfortable and vivid. The images are sharp where the viewing angles are same anywhere you see it. There is also another variant with touch bar functionality. For me, it's not that worth for the feature and price. The price difference is big, so make sure you really need it if you want to take that variant. If you are in limited budget, then just take the basic or standard variant as everything is same. I still recommend you to take look at this new product although you are going to miss its USB ports. If you think the connectivity is not your priority, then this can be your perfect companion.
| Macbook Pro 13 | Main Specs |
| --- | --- |
| CPU | Intel Core I5 8259U 2.3 GHz |
| Graphics | Intel Iris Plus 655 |
| Display Size | 13.4 Inch True Tone |
| OS | Mac OS |
| Memory | 8GB DDR3 Memory |
| Storage | 256GB SSD |
Last price update: 2021-01-04 15:46:48
back to menu ↑
Dell XPS 13

Dell XPS 13 is a true answer for ultraportable machine. Both of weight and thickness are very slim even when you compare it with Spectre X360 and Macbook Pro. The design is so minimalist, but yet great with aluminum material that many people said from CNC. This aluminum surface then finished with rose or silver depending on your color choice. The build quality is strong especially on the hinges that now sturdier than before. The device does not sound cracking when I turn it to the tablet for multiple times. Opening the lid, we will be welcomed with bezel-less display that called as "Infinite Edge". One great thing that I personally love here is the available of connectivity. Unlike the new Macbook Pro, here the connectivity is complete. On the right sides, there would be USB 3.0 port, Noble lock port, and an SD card slot. On the left side, single charging connector is there and also including three ports that include of USB 3.0 port, 3.5 mm audio jack, and Thunderbolt 3 port.
Although the package is small, the performance is still yet beast on the inside. The Intel I7 processor performs better in term of power and power consumption. The performance is only slightly behind with Kaby Lake Refresh chip that not too different. The similarity between Sky Lake and Kaby Lake Refresh processor is too much and I guess this is the main reason why many companies still using the old one. Doing our work will be done without any issue here. Then, if you worry about the battery then, you are in good way here. The battery itself runs for 13 hours and 33 minutes on my test. The result is impressive for the price. It should easily last for a day if you touch it rarely. So, bringing the charger around is not needed anymore if only you get this machine.
| Dell XPS 13 9370 | Main Specs |
| --- | --- |
| CPU | Intel ULV Core I7-8550U 1.8 GHz |
| Graphics | Intel HD Integrated Card |
| Display Size | 13.3-inch |
| OS | Windows 10 Home |
| Memory | 16GB DDR3 Memory |
| Storage | 512 PCIe SSD |
Last price update: 2021-01-04 15:47:56
back to menu ↑
Microsoft Surface Pro FJX-00001

The newest Surface Pro Edition is specifically designed for business and students. Microsoft totally aims the Macbook users who already get tired with it in many years. The portability is the biggest selling point here as the convertible design really helps me on supporting my productivity and multimedia purposes. Just work yourself on its small and comfortable keyboard when you need to focus on our daily routine and turn it on into the tablet for getting rid the stress by watching our favorite movies. This is the enjoyable point where Macbook would never able to touch it. There are so many great choices outside there, but not all of them are giving a true portability.
There are few important things to stress about Surface Pro. The first one is about the port which is completely empty. There is only single USB 3.0 without USB-C or Thunderbolt port. This is the only issue I found here. In good point, I really love its display and keyboard. The keyboard is small, but still usable on typing in many hours. The buttons are clicky and smooth. It's required of 70 grams of punctuation power and offering a nice balance performance. The same good thing is also happened on the display. The 2736 x 1824 resolution looks so sharp in the 12.3 inch screen. The color production is perfect with the detail. The screen has ratio at 3:2 and perfectly balance on both of horizontal and vertical angles. It's been nearly five years, but the Surface is still gaining is position as the king for convertible notebook. If you run out of choice, then let's take this one as the main alternative.
| Microsoft Surface Pro | Main Specs |
| --- | --- |
| CPU | Intel Core I5 3.5 GHz |
| Graphics | Intel HD Integrated Card |
| Display Size | 12.3-inch |
| OS | Windows 10 Pro |
| Memory | 8GB DDR Memory |
| Storage | 256GB Flash Memory |
Last price update: 2021-01-04 16:05:20
back to menu ↑
ASUS Transformer Pro T304UA

The detachable laptop is becoming so popular and having their market right now. Many people start to prefer this model rather than stick with standard machine for some reasons. I guess the main reason is because the portability that becomes right matter. Surface is a great laptop, but the price is so expensive and really bothers many people. With ASUS Transformer Pro T304UA you get the similar functionality that it has, but in much better cheap price. This is a huge deal and there is no way to miss. Still, we need to know what good and bad things from it. The system's measurement is at 8.2 x 11.7 x 3.5 inches with 1.9 pounds of weight. The weight and thickness is similar to HP Spectre X2. The body measurement would be thicker when the keyboard is connected.
The 12 inch display has 2K resolution with crisp and clear images. My only complaint here is located on the brightness that not really bright. The 2K resolution does not make great impact on the battery life and performance thanks to its Intel I7 processor. The performance is wise and doing any work should be easily without any issue. The Transformer Pro looks very promising for everything on the inside. ASUS has done such a wonderful thing to make it appeal to anyone. I think this is the right time for swapping your old laptop.
| ASUS Transformer Pro | Main Specs |
| --- | --- |
| CPU | Intel Core I7 Processor 2.7 GHZ |
| Graphics | Intel HD Integrated Card |
| Display Size | 12.6-inch |
| OS | Windows 10 Home |
| Memory | 8GB DDR3 Memory |
| Storage | 256GB SSD |
Last price update: 2021-01-04 16:05:16
back to menu ↑
Acer TravelMate 14 P2410

The TravelMate 14 was designed to target students. The company is offering a good choice in such an affordable price. With only for under 800 dollars, you will get a decent machine that let you doing all of your everyday tasks easily without any lag. The 14 display is a great choice in term of usability and portability. Then, the 4GB RAM and Intel Core I5 gives you an enough power for finishing your homework and doing presentation in the front of class. The design itself is also made from rubber strip and strong frame that keeps it from couple bumps and drops. You would find yourself a situation where something bad is happened. The laptop might slip from our hands or it's accidentally falls from the chair or table. We never know what will happen and this design protects it.
We basically are going to use it for typing most all of the time. The company really knows about this case and provides their best job about this case. The keyboard is designed with water proof technology and should be okay if people accidentally spill the drink into it. That case is often happened and this is such a good additional feature. On typing, the rough and flat keys make a nice pressure point and clear drop. It gives me an overall good experience. The keys travels are suitable for frequent typing and the keys are also made in standard size although some of them are not. The only keys that appeared bit tinny are the navigation one. It's not a matter, but you have to get used with it for a little.
| Acer Travelmate P2410 14 Inch | Main Specs |
| --- | --- |
| CPU | Intel Quad Core I5-8250U 1.6 GHz |
| Graphics | Intel HD Integrated Card |
| Display Size | 14 Inch TN HD |
| OS | Windows 10 Pro |
| Memory | 8GB DDR Memory |
| Storage | 500GB HDD |
Last price update: 2021-01-20 01:58:59
back to menu ↑
Samsung Chromebook Plus XE513C24-K01US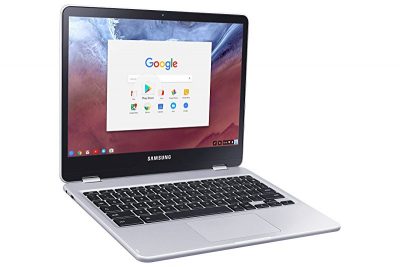 Samsung Chromebook Plus is bit more expensive than most of chromebooks, but its design and rice features make the money is well worth. The best features to find like the stylus support and convertible design are worth when we get touch with it. The entire body is designed with magnesium alloy materials that both impressive in weight and durability. Holding it on your hands is steady and not slippery at all. I got a bad experience on few Chromebook where it's too slip when we hold it. Luckily, the same thing is not happened here thanks to their effort. The package is overall plain and nothing great to expect. The chassis is not that wide in comparable with most laptops and I guess you probably have to get used with it for the while.
For the operating system, the system is installed with latest Chrome OS from Google. The system is smooth and free from any bloatware. There are only few useful Google apps that ready to be launched. The interface itself is very similar like seeing an Android, but only in bigger screen. The Android application support is here since Chrome applications are not that big. People should not worry for applications selections because there are tons of good apps on Android including the Microsoft Office Mobile. The OS Is fully integrated with Android OS and means you are totally free from your smartphone on working. I think using Chrome OS is totally worth for now especially for users that get tired with Malware and Virus issue on Windows. I recommend you to test by your own and see how it runs.
| Samsung Chromebook Plus | Main Specs |
| --- | --- |
| CPU | OP 1 ARM Based Processor 2GHZ |
| Graphics | Integrated Card |
| Display Size | 12.3-inch |
| OS | Chrome OS |
| Memory | 4GB DDR3 Memory |
| Storage | 32GB Flash Storage |
Last price update: 2021-01-04 16:05:31
back to menu ↑
ASUS Vivobook TP203NA

Not everyone wants to spend so much on buying notebook. The main reason is because they just do the simple task like editing documents and browsing that basically can be done even in the standard notebook. Buying the expensive one will only hurt our pocket. For cheaper option, ASUS Vivobook TP203NA is provided as the number one choice. The device is light and powerful enough on handling many tasks. With these reasons, I think it's pretty hard to not get interested with it especially when we are considering the price. It's available for under 400 dollars and surprisingly worth more than price. The full HD resolution and convertible design are hardly to get at the price and you never find the similar choice on other competitors. The 360 system is there for transforming it into tent or tablet mode for enjoying the movies.
the lid, there is a chicklet style keyboard that comes with 0.70 mm travel keys. All of main buttons are in normal size with few exceptions on few buttons like the navigations button which are quite small. The keyboard is small and I have to get used for some hours. Surprisingly, typing is smoothly done although not the comfortable one for this case. My only complaint is located on storage which is only has 64 GB of storage. The system itself already took of around 10 GB and leaved you the space for 40 GB to use. The only way to add the extra storage is by using the Micro SD slot.
| ASUS Vivobook Flip TP203NA 11 Inch | Main Specs |
| --- | --- |
| CPU | Intel Celeron N3350 Dual Core 1.1 GHz |
| Graphics | Intel HD Integrated Card |
| Display Size | 11 Inch HD |
| OS | Windows 10 S (Upgradable to Pro) |
| Memory | 4GB DDR3 Memory |
| Storage | 128 SD Card + 64GB EMMC |
Last price update: 2021-01-20 01:58:49
back to menu ↑
HP Stream Pro 11.6"

Our last choice here would be the HP Stream Pro 11.6". HP once again really pushes the budget usage to the minimum with this notebook. For the price, we receive a decent machine with Office 365 subscription that already cost you around 60 dollars if you buy it separated. People just get crazy and the product surprisingly becoming so popular in the 2018. Another thing to make people interested is because of the design which is available in different selections. There are blue, red, and many other bright colors selection to pick. I do not really know if people are going to love it. There is a black version if you prefer the darker version.
For supporting the productivity, the system is supported by Intel Celeron N3060, 4GB RAM, and 64GB SSD. The specification is then combined with Windows 10 Pro. The operating system has some bloatware like games and stuff. I do not have any complain since this is the only way HP can make it cheap. Just delete it from Control Panel if hate it. There are dozens of great things to expect. The price is not always being the measurement for high quality products. Check it further and see how its suite to your needs. Pick it if you only think it as worth. The choice is back on you, so feel free to choose.
| HP Stream 11 Inch | Main Specs |
| --- | --- |
| CPU | Intel Celeron Dual Core N4000 1.1 GHz |
| Graphics | Intel HD Integrated Card |
| Display Size | 11.6 Inch TN HD |
| OS | Windows 10 S |
| Memory | 4GB DDR4 Memory |
| Storage | 32GB EMMC |
Last price update: 2021-01-20 01:59:20
Final Thought
You've perused through the list of our top choices and must now have an idea of the varied of system you can purchase with your money. Now, you know which features you can leave behind and the specs that are unnecessary to have. There are several ways that you can afford these devices, and most consumers prefer using online platforms. Thankfully, you will be able to purchase any of these devices from the comfortably at your own home, and not feel rushed about your decision.
We gave you the background and points that you need to cover before you start down your path toward purchasing your new piece of equipment. Keep in mind, that it is possible to buy an affordable small computer, but you will not have the necessary power or options that you receive when you spend slightly less money. If there is one thing that you should have learned today, it is totally possible to only spend a few hundred dollars and end up picking the devices which capable of filling your workload. So, now you must venture out into the marketplace and buy the device of your choice, to get you through the next few years of computer use.
Which operating system is right for you?
An initial choice you must make is what kind of operating system you want to go with, and then you can narrow down your options into much smaller scale. Many people love to use Windows since they are familiar and far more affordable than a Mac. However, Windows are notoriously buggy, and filled with a lot of problems, but once again it is easier to customize a device that features windows on it. With a Mac, there is less customization and they aren't considered budget friendly devices. You can purchase a refurbished Mac at an affordable price, if you look around and buy from a trusted seller. Don't take the chance of buying a Mac off through some Craigslist because it's a waste of money since there is a huge chance the component inside are already wasted. Finally, there are computers, like Chromebooks, that are app based and have no real software. These computers are popular in institutions like schools because they are incredibly efficient and affordable machines. So, your budget will heavily determine which operating system you use because if you are planning on spending around 700 dollars you won't be able to get a Mac at all. There are some avenues where you can buy used Macs for far less, but they aren't certified. So, remember if the cost is worth the risk when you enter into situations like that.

Normal Mistakes People Make When Purchasing Laptops:
It isn't enough to have education about the computer of your dreams, you should also be aware that new buyers all fall into similar traps. Knowing where the traps are gives you the highest possibility of avoiding them. So, we present to you, 10 mistakes to avoid.
1. Buying the Cheapest Option: Money makes the world go around, and when shopping for a brand you often might think that buying the cheapest option is the best solution. However, you couldn't be more wrong. This option seems smart because you need to abide by your budget, but if you buy a device that can't run your programs, you've wasted money here. Generally, you can pay just a little bit more to up the power from the processor or the memory. This extra 50 to 100 dollars can save your time and getting way better experience.
2. Overpaying: This may seem like common sense, but you would be surprised how many people overpay because they don't do enough research. It is important to seek out other computers that compare to the model that you have. One of the best examples of users overpaying is when they think they must purchase the newest model on the market. Just because a new computer is released doesn't mean that it is time to chuck in your model for a new one. In fact, most computers will hold their value if they are taken care of. So, before buying something, do a little bit of reading to make sure that the money is worth it, and that it isn't popular because of some fad.
3. Must Have the Newest Laptop: We touched on this a bit in the overpaying for a laptop, but most people get upset with the status of having a new piece of technology versus needing it. You can see the line of people every year that get a new phone, when their old phone was just as efficient. In fact, in most cases, the specs aren't even that different. There is guaranteed to be a new product out every year, and instead of wasting money you can save your purchase for a model that you really need. Consider the long-term value of any product you decide to buy before spending money on it.
4. Not Paying Attention to Ports: We talk about this all the time, before purchasing your computer you need to ask yourself what you need the technology for. A laptop is not a one-size fits all solution to your computing needs, and as such you must be sure that the device has the right capabilities. If you are shopping for a Mac, it might be necessary that you have a Thunderbolt 3 port. However, when looking at PCs you might still be using a USB 2.0 drive to store information. If you buy a computer with a USB 3.0 port, then you won't be compatible. Ports are something that you should always consider before your make your new purchase.
5. Getting the Best Resolution: Graphics are important when purchasing a computer, especially when you are a designer and need a higher level of detail. However, the average user does not need to waste money on the best resolution. If your resolution is high you will immediately notice that battery life is suffering. What is the point of having a portable device that needs to be plugged in constantly? If you select a lower resolution then you guarantee yourself up to 2 more hours of battery life. So, although your screen will look pretty, what features really matter to you?
6. Test Drive the Device: If you were buying a car you'd want to sit behind the wheel, so why not see how the computer you want operates. Many people buy things online, and in doing so you are buying products that are sight-unseen. However, it is worth it to take a trip to the store so that you can put your hands on the keyboard and really try it out. A lot of complaints, especially with convertible devices, is the way that they feel. You can completely avoid this issue by just going to the store. While you're at the store, talk to employees and see which models are the best sellers and ask for their opinions.
7. Does Size Matter: It might seem like a great idea to get a 10-inch monitor because it is affordable, but in all likelihood, it is going to be difficult to see the screen. In this article, we discuss the important aspects of having a smaller device, and you are going to compromise some features with size. However, if you can afford a 13-inch screen then that is something worth paying for. In fact, most people traveling with their laptops want a 15-inch screen. It's important that you know what you are getting into, and that you're prepared to pull out your glasses, so you can see details.
8. Having Tunnel Vision: Whether it is your love of a particular brand or feature, zoning in on one aspect of a laptop is never the right move. When you are so focused on one thing, you can miss another machine that fits more of your needs. If you're shopping on a budget, it is better to find a machine that encompasses most of your needs, instead of buying a model that is popular. Also, look at the specs of the device you want, and decide if they are trying to sneak in extra features that really do nothing. For example, most people don't need past 8 GB of RAM, but it can look like a good idea to purchase that for extra money if you don't know the difference.
9. Getting an Ultrabook for the Price: Yes, smaller laptops are far more affordable and Chromebooks have made it look like a healthy alternative for a high-powered machine. If you are only going to check your email, write some word documents, and browse the internet then a Chromebook is perfect. However, if you are a designer and need to run programs then an ultrabook isn't going to come close to the specs that you need. Storage is also another issue, because most of these ultrabooks have none. So, before you get excited about this affordable price, you need to make sure that the device is powerful enough to do the work.
10. Not Knowing what a 2-in1 is: Again, below, we list a lot of options that are 2-in-1 machines, and it's important to know what these tablet hybrids are capable of. There are some great options on the market where it can really feel like the 2-in-1 is a traditional laptop, but that isn't the case. In fact, most of these options are just slightly more powerful tablets that are aren't capable of much else. So, a lot of consumers decide to purchase these devices, not knowing that they will never have the power or memory to accomplish their tasks. It is important to not only pay attention to the price tag, but to make a purchase that meets your needs.

The Importance of the Keyboard
Many of the computers on this list are convertible options, and in selecting one of them you need to pay attention to the keyboard. This may seem like a weird section to have, but honestly you can substitute the keyboard for any feature. For example, if the screen completely detaches, and it is difficult to get off and on, then that is going to be an annoying problem. You don't want to spend quality time fighting your newly purchased machine. Also, you don't want to be so rough with your product that you end up damaging it. The same advice is true for a keyboard, because if it doesn't feel right it's a waste of money. If you only wanted to use a tablet then you wouldn't need a keyboard, and the comparison works the same in reverse. It is important that all the features of your product work appropriately, so that you can get the most for your money.
One of the reasons that the keyboard is specifically mentioned is because it is one of the chief complaints. Many users order a 2-in-1 and are upset when the keyboard is hard to use, or isn't what they expected. Now, if you find yourself in this keyboard situation there are some solutions. You can always buy an external keyboard and hook it up to the screen. You won't spend that much extra money, and you'll be happy with the device that you have. You can also get a 2-in-1 and use it primarily as a tablet. Especially if you're looking for a tablet, but you kind of want something in between, it can be worth the bad keyboard. Just be prepared to go to the store, so that you can put your hands on some of these products. You can save yourself a lot of trouble by doing your research, and testing out any of the devices that you like.

Screen size: does it really matter
We're totally focused on providing the best information about small laptops, but what size screen should you be considering? Many buyers consider a small laptop a device that has a screen size of under 14-inches. If you think about it, the smaller the screen the harder it is going to be to see any kind of detail. The detail aspect can be important if you are trying to write a paper and you can't see the font. However, most individuals claim that an 11-inch screen is the perfect budget laptop. A screen size smaller than 11-inches should be referred to as a tablet. So, there are many different options to choose from, but it's recommended that you don't select a computer that has less than a 10-inch screen because it will be too small. There are many different options that you can find, and know that if you up your budget a little bit you will be able to afford a larger screen.

How does the price of a smaller laptop compare to larger devices?
One of the benefits of buying a small laptop is that you will be paying less money, and this is great news for budget conscious shopper. One of the first rules you have when purchasing any product is to see what you are willing to spend. There are few things as dissatisfying as going shopping for something and falling in love with a model that is out of your price point. Not to worry, since we are in a buyer's market it is easy to find something that fits most of your needs at a price that you will be able to afford. The reason that most small computers are less money is because they do not have as many components as larger models. In fact, small laptops were considered to be budget models until recent years where they have increased in popularity. Now, anywhere you go you see that the average screen size in laptops are 13 and
15-inch screens
. There are 11-inch screens which are incredibly small, but buyers are also purchasing convertible laptops that have even smaller screens.
Depending on the features, you are able to purchase a nice computer, that is smaller, for well under 1,000 dollars. Although most smaller devices have lower storage and memory, it is still enough to complete daily tasks. No, we're not suggesting that your computer will not be functional, but you might not have a CD-drive. Also, depending on the operating system you select, it will also affect your budget. If you choose to have a Mac versus a PC you are going to spend significantly more money. However, you can purchase a PC with a lot more features for the same price as a base-model Mac. If you even consider a Mac a base model because most of these devices are far more advanced than other companies. All of these characteristics of technological devices should be taken into heavy consideration when purchasing a device.