Nowadays, we are going to find some different models of laptops available in the market. One of most popular from them is convertible one that let you to swap it into different modes like tent, traditional and tent mode that basically offer better portability and new way to use our system into our hands. Then, you also find another one of them like the hybrid one that even let you put of the screen from the keyboard dock and really use it like just an Android tablet at all. These two types of laptops can be your best consideration if you really looking for versatility and portability. Unfortunately, the price is slightly more expensive than any traditional laptop, but its seems worth considering on how productivity should improve here. There is a quite big price difference here, but not really that much that makes you into crazy.
People who want to afford a mobile device that worked as both laptop and tablet will love to see the best hybrid laptop available at the market. Before we talk further about the best hybrid laptops that you manage to buy today, we should understand first what hybrid laptop is. Some experts say that there is no difference between a hybrid laptop and a convertible laptop, but there are also experts who claim that the term hybrid laptop refers only to a laptop with detachable screen method. Other laptops that use swiveling, flipping and pivoting methods during their transformation are divided as convertible laptops. Without trying to confuse these both terms, this review will take the definition of a hybrid laptop is simply as the one that works in both as a tablet and a laptop, regarding of how mechanism used to transform it. We have provided some best options that you can buy right now. If you are finding for the best hybrid laptop that fulfills your mobile computing related needs, you will find some of the best choices in this review. To make it easier for you to understand, let's we jump into the article.
The Best Hybrid Laptops December 2020
Microsoft Surface Book 2 HMW-00001

The Surface Book 2 should be on our top recommendation here thanks to the newly design and powerful hardware on the inside. The product was firstly introduced back in the 2015 and designed to continue Microsoft dominion on 2 in laptop market. This device features so many similar things like their older brother did the Surface Pro. The only main difference is located on the hardware that slightly more powerful right now. The dock itself not just using as the place for keyboard, but also fit a discrete graphic card on the inside. There is a NVIDIA GTX 1050 that ready to help you on handling more demanding applications like Photoshop and video rendering. This powerful GPU later is combined with Intel newest gen I5 processor and result such a great power. It's so lightweight and sleek on the outside and powerful on the inside.
As for the design, I think many people should like it. The entire chassis is created from aluminum that feels light and durable. The silver white finishing covers all of the surfaced and really adds of premium look to the outer space. The build quality is really fantastic especially on the hinge system that holds the screen nicely when you put it on the dock. Attaching and detaching the display from and to keyboard are easily done. The users just need hold off screen if they want to take it off or they can just put it off into the keyboard for attaching it. The keyboard itself is something to proud here and dependable for typing in long usage. The keys are soft and do not require you to force much power in order to press it. The backlit support is back and means typing on darker environment is not an issue. Sadly, the stylus pen is not included anymore on the package and that is the only thing I miss from it.
| Microsoft Surface Book 2 | Main Specs |
| --- | --- |
| CPU | Intel Core I5 3.5 GHZ |
| Graphics | Intel HD 620 |
| Display Size | 13.5-inch |
| OS | Windows 10 Pro |
| Memory | 8GB DDR3 Memory |
| Storage | 256GB Flash Memory |
Last price update: 2021-01-04 16:04:19
back to menu ↑
Lenovo Miix 320 2 In 1 Laptop

The Miix 320 is probably one of the cheapest hybrid devices to afford right now. It promises you so many similar things like other premium products do, but in much cheaper way. The product is considered as cheap, but everything is not really bad especially for students or business users that looking for secondary machine. As for the design, the chassis is created from plastic and then covered with white finishing on all over the lid. It does look like a cheaper version of Macbook because the finishing is really similar here. I really have no bad thing to say from its packaging except for the process on detaching. Detaching the display from keyboard requires you quite great power. So better to use your one hand to the hold the dock and use your another hand to detach it.
For supporting your productivity, the system is powered by Intel X5 processor that basically a mobile processor. It might be a mobile processor, but it can produce so much power and still comparable with Intel Celeron processor that used by most low end devices right now. There is no slowing down or stuttering during my test especially when there is a 2GB RAM that really helps the system on doing multitasking. These kinds of specs should be good enough for doing any light to medium tasks like browsing to the internet and editing some documents. Just never ever try to use it for high activity like doing Photoshop because it's not that suitable for that kind of activity. You should be okay, but just do not expect great thing from it. I do not have any issue on using it for couple of months beside than the storage which is quite limited. It has 64GB storage, so be careful on maintaining all of your data and apps.
| Lenovo Miix 320 | Main Specs |
| --- | --- |
| CPU | Intel X5-Z8350 Quad Core 1.44 GHZ |
| Graphics | Intel HD Integrated Card |
| Display Size | 10.1-inch |
| OS | Windows 10 |
| Memory | 2GB DDR Memory |
| Storage | 64 GB EMMC |
Last price update: 2021-01-04 16:05:30
back to menu ↑
Lenovo Miix 520

The Miix 520 is appeared to be a true alternative for Surface especially if you are kind of person who does not really want to spend that much money, but still demanding of high level of productivity. This machine features of 12 inch display that offering both of productivity and portability at the same time. The screen is not that small in comparable with 10 or 11 inch one, but not that really big than 14 or 15 inch one. The thing that I love here is the resolution. It has 1080p resolution which is really amazing to see on such a small screen. The images are clear and sharp on matter any content we see here. The brightness is not really bright, but still won't force you to push the brightness setting into maximum on outdoor usage.
Move to the inside, you soon find a small keyboard that sits nicely at the center of base. The keyboard is quite small, but all of keys are appeared in normal size except for few keys that look small. The first thing that we have to do here is to get used with it. Yeah, I have to get uses with it for a while until I am finding my maximum performance. The travels distant between keys are 1.5 mm and pretty standard for right now. It forces you to give power for around 70 grams in order to press for each key and feels clicky during the each press. I was able to type for around 79 words per minute without any issue here. The result is quite impressive especially considering that I am typing on 12 inch device. The only last thing that wants to stress here is the battery life. The battery life last shorter than I expect. Streaming 1080p videos while connected to the WIFI gives me total of 7 hours and 40 minutes usage in single charge. It should last for a day without any issue, but be ready to reduce the brightness little bit.
| Lenovo Miix 520 12 Inch | Main Specs |
| --- | --- |
| CPU | Intel Quad Core I7-8550U 8th Gen 1.8 GHz |
| Graphics | Intel HD Integrated Card |
| Display Size | 12.2 Inch IPS FHD |
| OS | Windows 10 Home |
| Memory | 8GB DDR3 Memory |
| Storage | 256GB M.2 SSD |
Last price update: 2021-01-20 01:59:27
back to menu ↑
IRULU Walknbook 2

The Walknbook is a perfect choice for kids or students that needs for productivity and entertainment at the same time. It costs you not higher than 200 dollars and comes with colorful and bright design that kids love. Some colors like green, orange, and many of them are available to your needs. The design looks awesome for its cheap price especially when seeing the thick black bezel surrounded the display. The back cover gives me the similar impression, but sadly the surface is easily becoming of fingerprint magnet and I recommend you to put a case for protecting it. The packaging is so awesome, so what about its weight? Well, the total weight for the chassis is only at 1.3 pounds with dimension for 10.2 x 7 x 0.4 inches. The design is quite slim and for that case, there is only a single USB type-C that used for charging the system and transferring the data.
The 10 inch screen and 1280 x 800 resolution is not something bad to have here. It does not produce of high clarity images, but still pretty much usable for all kind of activities including of streaming movies. On my test with Colorimeter, it shows me that the display could produce 98 percent of SRGB color and its great despite of its price. The keyboard on another side is not really great because the travel distant between keys are too close and sometimes makes me press the same button or wrong button very often on fast typing. It's not just really great for business needs, but pretty dependable for kid's laptop or secondary device for you. I recommend you to check it further and see how it works on your needs.
| IRULU Walknbook | Main Specs |
| --- | --- |
| CPU | Intel Cherry Trail X5 Z8350 1.4 GHZ |
| Graphics | Intel HD Integrated Card |
| Display Size | 10.1-inch |
| OS | Windows 10 |
| Memory | 2GB DDR Memory |
| Storage | 32GB EMMC |
Last price update: 2021-01-04 16:05:12
back to menu ↑
Microsoft Surface Pro FJX-00001

The list would be that empty without adding of this kind of device. The main reason for 2 in system is becoming so popular right now is because of Surface Pro. Back in the day there is only company that crazy enough to provide of laptop and tablet at the same time and we know that company as Microsoft. It turns out that the product becomes so popular and leads other companies trying to do the same thing. The company has just refreshed its version and its actually pretty interesting to see the difference. In term of design, I am actually not able to find any difference at all. It features of the same rounded and edge on all over the chassis. The only difference is the kickstand now able to be customized into 165 degrees and promising better viewing angle to the users. I guess the company does not want to mess with it because there is really nothing wrong with the old packaging.
To compete with other similar products, Microsoft makes the surface much and much slimmer than the previous model. For this case, they were only able to fit single USB 3.0 without any extra port. I do not really know why they decide to put of standard port and not Thunderbolt port. I guess they do not want to force people on using extra adapter. On the good side, the performance is not a big problem here with the newest Intel processor and 8GB RAM. The system is fan-less and gets hot pretty quickly, but never really makes it not usable at all. The temperature goes to 83 or 85 degree easily and never reaches up to those numbers. The system is completely safe as long as it never goes to 95 degree and that is where the thing is unusable at all.
| Microsoft Surface Pro | Main Specs |
| --- | --- |
| CPU | Intel Core I5 3.5 GHz |
| Graphics | Intel HD Integrated Card |
| Display Size | 12.3-inch |
| OS | Windows 10 Pro |
| Memory | 8GB DDR Memory |
| Storage | 256GB Flash Memory |
Last price update: 2021-01-04 16:05:20
back to menu ↑
ASUS Chromebook Flip C213SA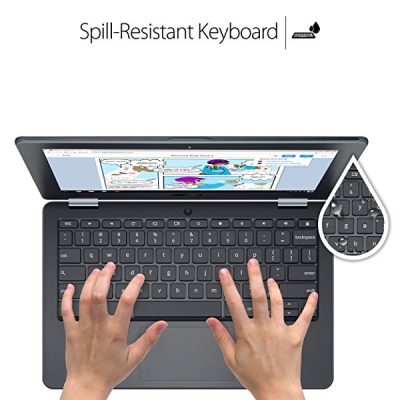 The Flip C213SA is specifically built with students on mind. It brings portability into our hands with portable design that let you transform it into multiple modes included of tent mode for streaming with your friends, the tablet mode that works great for browsing to the internet, and the traditional mode itself that useful for finishing your paper. All of those things are available into single product with single price. For supporting the needs for students to move around, ASUS improved the build quality into the maximum. The chassis is made from plastic, but the entire edges surrounded by thick rubbers that would protect it from drops and bumps. The company even claims that the product is able to handle drop from 3.9 feet. I did not believe it at first, but the thing is true as I dropped it from my table and it's still working like it was supposed to be.
The outer shell is not the only place that received better treatment. The keyboard on the other side was received the similar thing. The keyboard surface is protected by waterproof material that prevents water from leaking into the base when we accidentally spill water on it. We love to put our drink near our laptop and this thing will protect it from any bad situation to happen. The hardware is so impressive, so what about the software? For the operating system, the Chrome OS was used for this case. The system is lack apps support like you know so far, but now Google let you to install their millions of Android apps and games into it. The apps itself included of Microsoft Office Mobile that appeared to be so similar like the desktop version. There is no reason for us not to consider Chromebook as our top choices especially for seeing the price is much cheaper here.
| ASUS Chromebook Flip C213SA | Main Specs |
| --- | --- |
| CPU | Intel Apollo Lake N3350 With Dual-Core |
| Graphics | Intel HD Integrated Card |
| Display Size | 11.6-inch |
| OS | Chrome OS |
| Memory | 4GB DDR4 Memory |
| Storage | 32GB Flash Storage |
Last price update: 2021-01-04 16:06:52
back to menu ↑
HP Spectre X360 16G512G

The HP Spectre X360 is in the same price with Surface Book 2 with HP is successfully on making it more appealing and coming with better hardware. If the users are getting tired with their devices, then this can be your top alternative. The design is slim and sleek, but still providing well complete connectivity. There are USB 3.0 ports and dual Thunderbolt 3 ports. It means we will get total of four USB ports with two of them are the standard one. No need for buying the extra adapter for just plugging your smartphone right now. Beside than its well complete port, HP is also included of stylus pen on package. Microsoft on the other side forces to buy it separately for around 90 dollars and we totally receive it for free without any extra charge. Moreover, the stylus pen has been supported by Windows Ink and allowing you to take note and drawing with the screen easily.
For the performance, I think the thing should not be asked anymore because the Intel I7 8th gen and NVIDIA 150MX are beast. Intel newest gen processor does not only bring better performance, but also less power consumption. As the result, now it gives us 30 percent more battery than the previous gen. The NVIDIA 150MX itself is basically the mobile version of GTX 1050 and still pretty dependable for gaming. Yeah, you can do E-Sport gaming here. I have tried both of most popular E-Sport games right now, Overwatch and Rocket League. On the test, both of them run up to 60 FPS all the time on medium setting. The game is playable on both of multiplayer and single player with no issue. Playing games on break time is one of the best ways to kill your boredom.
| HP Spectre X360 | Main Specs |
| --- | --- |
| CPU | Intel I7-8550U 8th Gen 1.8 GHZ |
| Graphics | NVIDIA GeForce MX150 |
| Display Size | 15.6-inch |
| OS | Windows 10 |
| Memory | 16GB DDR4 Memory |
| Storage | 512GB SSD |
Last price update: 2021-01-04 16:05:20
back to menu ↑
Microsoft Surface Go

The Transformer Mini is featured by Microsoft as the cheapest version from their Surface lineup. Everything included the design is really similar on what see on the Transformer Pro, but with few differences in hardware like screen, processor, and the storage. For the display, now it uses of 10.1 inch panel with HD+ resolution. Many people think HD+ resolution is crappy for now, but that is not really true. For 10 inch screen, HD resolution is still great, but the thing is different when you find it on 15.6 or 17 inch one where the images will look blurry and pixelated. Here, the screen is still not bad as it uses of IPS panel. It produces high quality images especially on the black level that details and realty typical of IPS panel. I just love their decision to put of IPS and not TN panel.
The Windows 10 is pre-installed as the main operating system. The system is almost free from any bloatware although I found some apps from ASUS are not that useful and only takes my storage. I recommend you to delete it as the storage is only 128GB. The operating system itself already takes around 15GB and leaves you around 90GB to use for installing apps and data, so uninstalling few unused things is helpful here. Remember that the storage is not expandable as it's embedded on the motherboard. The only way to expand the storage is by adding of micro SD into the slot. Micro SD is now cheaper and adding few more gigabytes should be enough here. With all of amazing stuff on the inside, I think this might be the right time for swapping your old device with this product.
| Microsoft Surface Go 10 Inch | Main Specs |
| --- | --- |
| CPU | Intel Pentium Dual Core 4415Y 1.6 GHz |
| Graphics | Intel HD Integrated Card |
| Display Size | 10.1 Inch IPS |
| OS | Windows 10 S |
| Memory | 8GB DDR Memory |
| Storage | 128GB Flash Memory |
Last price update: 2021-01-20 01:59:47
back to menu ↑
Acer Swift 3 SF314-52G-55WQ

Acer is always such a dependable company on finding of high quality products, but with very cheaper prices than its competitors. The thing is really shown on the Swift 3. They put so many amazing things like 1080p display that produces near 100 percent of SRGB color. The screen is so vivid and bright thanks to the IPS panel. The viewing angle is wide and really typical of IPS. The content or images qualities are not reduced no matter you see it from different directions. Streaming movies on tent mode with your friend is really enjoyable here. Above the screen, there is 720p camera that works beautifully on recording video and doing video conference. It's just not good for selfie as the images are grainy and not detail. That is not a big problem as people do not take selfie on laptop anymore.
The biggest selling point to find here are located on the performance and battery life. The Intel Core I5 8250U and NIVIDA 150MX are powerful enough to run anything you want. Slowing down or stuttering is almost impossible to find even with some stress on the system. The 8GB RAM really handles the stability of the system. Moreover, the battery life is impressive thanks to the 14 nm fabrication. It lasts for a day straight in single charge with light usage and any heavy usage would give us 8 hours battery life with 70 percent of brightness. The result is even better when we reduce the brightness and put it on the battery saving mode. Acer has worked hard to improve the battery life because the previous model really has terrible battery. I think they really listen to our complaint and make it better. As for now, there is no reason that stopping me to recommend it to you.
| Acer Swift 3 | Main Specs |
| --- | --- |
| CPU | 1.6 GHz Intel Core I5 8250U |
| Graphics | Nvidia GeForce MX150 |
| Display Size | 14-inch |
| OS | Windows 10 Home |
| Memory | 8GB DDR3 Memory |
| Storage | 256GB SSD |
Last price update: 2021-01-04 16:06:51
back to menu ↑
ASUS Vivobook Flip 14 TP410UA-DB71T

The Flip 14 is another impressive device from ASUS. It's available for under 1000 dollars and promising lot of things that worth for the price. The entire chassis is created from aluminum and looks stunning. It looks plain, but totally mind blowing on its simplistic approach. The chassis has 78.7 percent ratio and perfect to handle with single hand. The brushed aluminum finishing is soft, but not slippery to hold. Move to the inside, there is a fingerprint reader that placed near the touchpad that allowing you to login into system without needs for password and all of stuff. Just put your finger here and the lockscreen is opened instantly. The fingerprint itself is responsive and never fails to detect my finger. Security is becoming trending issue right now and this feature is a life saver for anyone that wants to protect their data from harmful person.
The 14 inch display here is probably the biggest selling point here. The IPS panel offers 178 degree viewing angle and perfect for entertainment. On my test, the display produces of 90 percent of SRGB color and easily beats other competitors at the same price. Streaming the trailer from the Last Jedi feels wonderful thanks to detail that surrounded me. Moreover, there is a USB type C that allows me to charge over the device with power bank or battery pack anywhere want. If I am running out of battery, then I just plug it over with my cable like I do with my smartphone and my battery problem is solved. This is such a nice feature especially when you are on travel and cannot find any wall socket to charge it. I think ASUS is once again proved their capability on creating high quality products with affordable price.
| ASUS Vivobook Flip 14 | Main Specs |
| --- | --- |
| CPU | Intel Core I5-8250U Up To 3.4 GHZ |
| Graphics | Intel HD Integrated Card |
| Display Size | 14-inch |
| OS | Windows 10 Home |
| Memory | 8GB DDR4 Memory |
| Storage | 1TB HDD |
Last price update: 2021-01-04 15:58:27
Final Thought
A hybrid laptop can be defined in many different ways. It may be defined as a system with a detachable screen or any laptop that features of capability to swap into tablet, or a laptop with hybrid keyboard component. In the end you are freely to choose your own personal definition and by that you would choose your most loved laptop model.
We have mentioned all models of hybrid laptop with their unique distinctive design and features. Your options, of course, are not limited to the recommendations above; however, they already represent all so-called hybrid laptops that one can find in the market today. Therefore, hopefully, this review would be able to help you find your best laptop.