As a gamer, you know finding an affordable gaming laptops is seems almost impossible. Although it is possible to find a laptop qualified as inexpensive compared to other gaming laptop options. Finding an inexpensive, acceptable option might be the driving force behind spending hours online hunting and searching for a used gaming laptop.
Everyone knows refurbished laptops come with countless opportunities for problems to develop, nobody wants that baggage. It is more safe and budget friendly to get a new machine that provides lower specs than higher end one. Low priced computers allowing you to play popular games, like Minecraft, Overwatch and DOTA 2, without breaking the bank. Lower end computers can handle more than are publicly credited for accomplishing.
If you love PC or E-Sport gaming, you can buy a super expensive, high-end gaming computer which easy to drool you over than a $1,500 dollars. Unfortunately, not all of users willingly want to pay that much. Most people don't have a large sum of money sitting around for making our dreams as a reality. As soon as you had the $1,500 in your hand, a $2,000 beastly laptop will catch your eye and become your new dream. If you are on a watching how much you spend, check out this great advice and the awesome gaming laptops for under $500 each.
You will also learn where a graphics card gets the information needs to create the images you see in game we play, and how it uses this information to create what you see on the screen. The inner workings of a computer are complicated, but with a little understanding and research, you could learn enough about how a computer works determine whether it will be able to carry out the actions you are expecting from an inexpensive gaming laptop.
What to Expect from A Gaming Laptop Under $500?
If you are buying a laptop that costs under $500, you should not expect a laptop with a beautiful aluminum finishing, bezel-less display and high quality speakers. You should not expect a superior display, or other high-end luxuries in this price range because the budget will limit the hardware inside. Focus your finances on the important features your laptop like the processor, the graphics card, and the RAM. Forget all the custom features provided by the manufacturer and focus on specifications with the gaming software you plan on running.
Before you select a computer from this list, you should analyze and consider your gaming habits, and what games you like to play the most. While all these computers have the capability to run most the games on the market, adjustments might be required for your settings, both in game and on the computer. Some these laptops provide a better experience to customer who prefer to play older and indie games, in comparison to new release games that have a large amount of focus placed on the intricacies or 4K graphics.
Other computers from this list will provide a quality gaming experiences for people who like playing MMOs and MMORPGs. Since all the computers cost $500, you will need to reduce the quality the graphics to decrease the strain on your graphics card and processor to mitigate lag and stuttering during the gameplay. Keep in mind, a lot the games released in the last several years are graphic demanding, which can pose problems if when you purchase computer in this price range. Even if you have reduced the visual graphics experienced on the screen, does not mean you will enjoy your gaming experience just as much as you would on an expensive computer. Let's take a look inside and see the right option suits to your needs and budget.
Cheap 10 Gaming Laptops Under $500 January 2021
ASUS Vivobook F510UA

As the starter I am going to recommend ASUS Vivobook F510UA for you to try. With the price for under 500 dollars, we get a really nice overall package that combined with powerful performance. If you are planning to play games on low setting, then you are in good way here. The Intel 8th gen processor is sure powerful and allows you to comfortably running the application without any issue. The design is also once again improved over the previous model and looks pretty much impressive. It's now thinner and lighter than before. The total weight itself is only around 3,7 pounds and could be easily thrown in your backpack. The keyboard is quite flex, but it goes away as soon you press it. Typing on social media feels comfortable and enjoyable. Above the keyboard, you see the 1080p screen with 80 percent ratio to the body.
As for the storage, the read and write speed are slightly slower because of the HDD usage and not the SSD. It has 1 TB storage and means storing dozens of games much easier with better storage. The booting time and opening apps are slower, but you get bigger storage as the return. I personally enjoy it since the difference is not big. The battery will run out in around 5 hours and 25 minutes in single charge. The result is not great, so make sure to bring the charger on your travel. This is the only issue I found so far, and I was impressed with everything they put inside. The laptop is affordable, but sure powerful on the inside. I recommend you to take look at it closer and decide if the product is worth or not for you. There is an upgradable version with better hardware, so just check it.
| ASUS Vivobook F510UA | Main Specs |
| --- | --- |
| CPU | Intel I5-8250U 1.6 GHz |
| Graphics | NVIDIA 940MX |
| Display Size | 15.6-inch |
| OS | Windows 10 |
| Memory | 8GB DDR4 Memory |
| Storage | 1TB HDD |
Last price update: 2021-01-04 16:07:03
back to menu ↑
Acer Aspire E 15 E5-575G-57D4

Acer Aspire E15 is should be our top pick on this list for some reasons. The main reason is because it has dedicated graphic from NVIDIA and very promising in term of performance. The Intel HD 620 is basically the mobile version of Intel integrated card and runs games very well in medium or low setting. The power is twice is comparable with Intl HD or others competitors. It runs Overwatch at stable FPS on lower setting and surprisingly good on Rocket League at medium setting. I played for couple matches and it's playable at all. The screen resolution itself is 1920 x 1080 and you might have to drop it into 1366 x768 in some games on retaining stable 30 FPS. The difference between HD and full HD is not huge and I guess we can stand with it. This GPU then combined with Intel I5 that slightly faster than previous model processor. It handles heavy tasks like video rendering and Photoshop in smooth performance.
Acer claims the battery should run for 12 hours, but I personally got only around 10 hours and 14 minutes. Maybe, the way they test is difference from us. Well, 10 hours is more than enough for playing games and you won't have to carry that charger around to your school as it runs for a day with light task. The full HD is impressive in both of images qualities and brightness. Using it in outdoor is nice with medium brightness setting. All of those impressive results are supported by cool and calm fans. Yeah, the laptop is really cool even on the stress test I have done. The heat is instantly increasing, but it's still enjoyable as it's not that hot.
| Acer Aspire E 15 E5 576 392H | Main Specs |
| --- | --- |
| CPU | Intel Core I3-8130U 2.2 GHz |
| Graphics | Intel HD Integrated Card |
| Display Size | 15.6-inch |
| OS | Windows 10 Home |
| Memory | 6GB DDR3 Memory |
| Storage | 1TB HDD |
Last price update: 2021-01-04 15:51:03
back to menu ↑
Lenovo 320 15ABR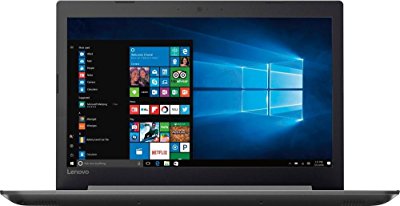 Lenovo 320 is a pretty decent machine with great specs in comparable with the price. I think AMD Radeon R7 is a nice choice for running retro or 2D games and old games in medium or low setting. It's nicely combined with AMD A12 with 2.7 GHZ and 8 GB RAM. The 8GB RAM let you personally enjoy multimedia purposes like browsing, streaming videos, and photo editing in such a good way. All of the processes are done in overall smooth performance with minimal lag. The 1TB storage is slower, but gives nice and empty storage for storing your games from Steam or Origin. I got the chance to restore my games and it plays well. The LED screen is good although not impressive. The brightness is too dim and i have to push the brightness to the maximum in outdoor. The price is talking here, so no complaint from me.
The full size keyboard is comfy and the travels distant between keys are wide. The travel is around 1.5 mm and I never smash the two buttons at the same time. On its both sides, you would notice the ports selections are limited here. There are only single USB-C and USB 3.0 as the method for transferring or moving the data alongside with the HDMI, and audio jack. One thing that I hate here is the battery. Its running for only 5 hours and that is bad in my opinion. They really do not improve it at all and it's bad for everyone. Just go and take it, if you think this case is not important. I leave the link below for you.
| Lenovo 320 | Main Specs |
| --- | --- |
| CPU | AMD A12-9720P 2.7 GHZ |
| Graphics | AMD Radeon R7 |
| Display Size | 15.6-inch |
| OS | Windows 10 |
| Memory | 8GB DDR Memory |
| Storage | 1TB |
Last price update: 2021-01-04 16:04:03
back to menu ↑
Dell Inspiron 15.6 5000

AMD is considered as better than Intel in low range market because the majority of their processor is packed with powerful GPU. I am personally not a fan of Intel HD as the power is not enough sometimes on handling heavy usage. For this case, Dell Inspiron 15.6 5000 is may your best bet here as the system is installed with AMD A10 processor. As for graphic card, its running alongside with AMD Radeon R6 that handles DOTA 2 greatly at lower setting. It comes with 12GB RAM and I tested it by opening 14 tabs at the same time on Chrome. The result is no lag at all although I stream the HD video at the one tab. Like I said before, the difference between AMD and Intel is so big here. The 15.6 inch screen is big and enjoyable everything I do. The resolution is still HD although I did not notice any pixelate images on testing it for a week.
The ports selections are limited with only 2 USB ports. The write and read speed are fast where transferring 500 MB files done in only 1 minute. For the system, the Windows 10 is choice for many students outside there. The system is free from bloatware and junk even though there are few HP applications. The pre-installed applications are well complete, but sadly Microsoft Office is nowhere to find. If you still have the old one, then you are not going have any problem. It's got to be problem if you do not have it. Well, there are many alternative free options outside there if you do not want to spend money on buying it.
| Dell Inspiron 5000 | Main Specs |
| --- | --- |
| CPU | AMD A10-8700P 1.8 GHZ |
| Graphics | AMD Radeon R6 |
| Display Size | 15.6-inch |
| OS | Windows 10 |
| Memory | 12GB DDR3 Memory |
| Storage | 1TB |
Last price update: 2021-01-04 16:04:00
back to menu ↑
Dell Inspiron 15.6 15-3567

Dell is once again provided an amazing choice for such an affordable choice. Dell Inspiron 15.6 is their answer for many people who are looking top choice in under 500 dollars. The system specifications including Intel core I5 7th generation like you see in many high end laptops and full HD touchscreen display. I really love the balance between the display and performance where they support each other. The display is not a big thing since the images qualities and color accuracy is mediocore, so never expect much thing from it. But, for just gaming and watching Netflix series, I got stuck for it in many hours without any issue thanks to the big display. The quality is really paid by the display size. Just keep in mind the device is quite heavy. The thickness is thin with only 0,9, but the total weight is around 5.07 LBS. I never recommend carrying it around since I am afraid with my back healthy. This is machine that specifically for home or office usage.
For the audio, the speakers are impressive for the price. The vocal clarity is clear and detail without too many noises. The bass at the same time is quite punchy and powerful. The company included of MaxxxAudio application to play around. Setting it manually did improve the sounds as long as you know what to do. The storage is always an issue for many users as they want to fit as much as data they could. Dell really knows about this case and decided to put of 2TB storage. It's double size on most machines we get in the market now. This is probably the biggest selling point here. I guess this should be a good reason for taking it home as we are longer needed to upgrade our storage.
| Dell Inspiron 15.6 15-3567 | Main Specs |
| --- | --- |
| CPU | Intel Core I5-7200U 2.5 GHZ |
| Graphics | Intel HD Integrated Card |
| Display Size | 15.6-inch |
| OS | Windows 10 |
| Memory | 8GB DDR Memory |
| Storage | 2TB |
Last price update: 2021-01-04 16:03:58
back to menu ↑
HP 250 G6

The HP 240 series was released a year ago and it got so many positive reviews from the users because of the package. HP wants to take back that momentum once again by refreshing it with slightly better design and of course better power. The improvement is really seen as soon as you see it closely. The entire body is designed with plastic, but not a cheap plastic. The hinges are strong and I tried to pull and clapping it for many times. I think the build quality is nice and the finishing surface is now smoother and not easy becoming a fingerprint magnet. The device is means as business machine although gaming is possible here. The slot is included of security lock and people get less chance to steal of your important data. Our data is totally security by using of this technology.
For supporting the productivity and gaming, Intel I5 7200U and Intel HD 620 are nice companion. The Kaby Lake processor is slightly faster than Sky Lake chips. Here, we got 25 percent more power and around 35 percent less power consumption. It produces the same amount of power and even more, but with less power. That is what I like from this chip. The result is making a big impact on the battery life. There is no I am going to gaming for only 3 or 4 hours. For six tests I did, the battery always reaches of 7 hours usage in browsing while connecting the WIFI. It should easily last for a day when you touch it rarely. You will never find the similar specification at same price like this one in others competitors.
| HP 250 G6 | Main Specs |
| --- | --- |
| CPU | Intel Core I5-7200U 2.5 GHZ |
| Graphics | Intel HD Integrated Card |
| Display Size | 15.6-inch |
| OS | Windows 10 Pro |
| Memory | 8GB DDR4 Memory |
| Storage | 128GB SSD |
Last price update: 2021-01-04 16:04:17
back to menu ↑
HP Pavilion X360 14" BA015DX

HP Pavilion X360 14" is convertible notebook with an impressive design and power quality. The design is nicely finished with silver natural touch. It looks like made from plastic although the entire thing is plastic. At least, showing it to your friends will never make you shame. The biggest selling here is located on the display which installed with IPS display. I love the IPS screen as it provides wide viewing angles anywhere you see it from different directions. The touch screen is supported and navigating through the system with my hands feels smooth and eases. The Windows 10 is built for Windows Ink, but sadly the stylus is not included on the package. For further test, I used the one from Surface Pro and taking note is nice, but for drawing I guess the screen is not totally made for it.
Move to the performance, the Intel HD 520 was capable on running Skyrim games in stable 30 FPS. Skyrim is an old game, but playing it on my hands are wonderful. Other games I tested here are Stardew Valley and Axiom Verge. These two games are totally playable from the beginning until the end. The game like Rocket League is also possible, but you might need to reduce the screen resolution little bit. The specs are not specifically designed for hard gaming, so remember about it. The price is worth for everything they bring to this machine. This should be your best luck if we want to get of laptop for small gaming at your break time. The choice is yours, so feel free to make the decision.
| HP Pavilion X360 14" BA015DX | Main Specs |
| --- | --- |
| CPU | Intel Core I3-7100U 2.3 GHZ |
| Graphics | Intel HD Integrated Card |
| Display Size | 14-inch |
| OS | Windows 10 Home |
| Memory | 8GB DDR Memory |
| Storage | 500GB HDD |
Last price update: 2021-01-04 16:03:57
back to menu ↑
ASUS Vivobook 15 X542BA DH99

ASUS Vivobook 15 X542BA is commercially success as it got many great reviews from users and reviewers around the world. I bought the notebook last month ago and I was so surprised with the overall package. The design is simple, but yet premium at the same time. The entire body is finished with total black finishing that looks awesome. Opening the lid, you would be welcomed by Chiclet keyboard that features backlit support. The keys are clikcy and having nice pressure. Typing to your teammate on gaming is possible done in darker room thanks to the backlit support. On the top of keyboard, the full HD display is ready to take you into the imagination place. Running the Shovel Knight and Axiom Verge are like in heaven. It's full with so many details. The texture, sprite, and character animations look very detail. This is far the top display I ever reviewed on this price range.
The AMD A9 is pretty decent, and never question its performance especially when combining with fast storage. The apps and games are opened and closed instantly without any delay. The RAM features 8GB that divided in single channel. The specifications are top notch for the price. The only bad thing is the battery life which is having 4 cell batteries, but only plays for around 6 hours. I guess this is the point where the price is talking to the consumers. I personally never mind with it, but you may have different opinions. That is why I mention it at the first place. Just detail with it if you mind takes the problem. The choice is back on you.
| ASUS Vivobook 15 X542BA | Main Specs |
| --- | --- |
| CPU | AMD Dual Core A9-9420 3.0 GHz |
| Graphics | Radeon R5 Graphic Card |
| Display Size | 15.6-inch |
| OS | Windows 10 Home |
| Memory | 8GB DDR4 Memory |
| Storage | 1TB HDD 5400 RPM |
Last price update: 2021-01-04 15:48:03
back to menu ↑
HP Stream 11.6"

HP Stream Pro is low end series from this company that always take the crowded every year. The most impressive point you will expect here is the battery life. The juice is impressive with total usage for 10 hours. Yeah, you could play our favorite games with that amount of times. I played Stardew Valley for around 7 hours without any break on building and socializing with the community. At that time, I never felt the laptop is too hot to touch. It's really cold although I play it on the summer this year. There is slowing down or bottleneck at all. It's supporting my productivity into the maximum thanks to this case. The school break time is bored and the notebook is dependable for this kind of situation. You are free from carrying the charger around.
As for the display, the 11 inch display is something to proud here. It produces of 1 million pixels with great detail. The backlit screen helps the device on using it outdoor. The quality is acceptable and enjoyable as long as you do not put much hope. Both of processor and RAM are okay, but the storage is limited here. The 32 GB EMMC runs out very quickly in no single time. The system itself already took 15 GB with the pre-installed applications. I recommend you to uninstall it as soon as you take it to free the storage. Another alternative is by using of micro SD as the external storage. Majority of my games are installed here. The 128 GB micro SD is good enough for storing dozens of games.
| HP Stream 11 Inch 2018 | Main Specs |
| --- | --- |
| CPU | Intel Celeron Dual Core N4000 1.1 GHz |
| Graphics | Intel HD Integrated Card |
| Display Size | 11.6 Inch TN HD |
| OS | Windows 10 S |
| Memory | 4GB DDR4 Memory |
| Storage | 32GB EMMC |
Last price update: 2021-01-20 01:59:20
back to menu ↑
ASUS Vivobook TP203NA

ASUS Vivobook TP203NA is our last choice here. TP203NA is included in the Flip series an available in few difference choices. The 11 inch one is most affordable where the 14 inch is slightly better with Intel M3-7Y30. But, if you are in limited budget, the basic version is more than enough. The Intel Celeron N3350 is taken games like Minecraft in stable performance. The notebook is totally designed for student in mind who wants to use their free time on light gaming. The convertible design allows you to transform it into tablet mode for multimedia and turn it back into traditional mode for working and gaming. It means you get the two differences things in single price. The product seems on the sale right now and maybe the right time for swapping our old laptop.
For taking our work, the Intel Celeron N3350 packs with 4GB RAM that results a smooth daily usage. The lag is noticeable on heavy usage, but it does rarely and happened only in few occasional cases. Everything seems to be fine on my test for a week. The biggest flaw located here is once again the storage. The storage is non-upgradeable as it uses flash memory storage and not HDD. You can swap the EMMC, but it will be tough as hell. It's possible if you know what you are doing, but I do not recommend it at all. The solution here is by using of micro SD or cloud storage on saving the data. I personally use the SD card since it goes offline all the time without internet.
| ASUS Vivobook Flip 11 TP203NA 11 Inch | Main Specs |
| --- | --- |
| CPU | Intel Celeron N3350 Dual Core 1.1 GHz |
| Graphics | Intel HD Integrated Card |
| Display Size | 11 Inch HD |
| OS | Windows 10 S (Upgradable) |
| Memory | 4GB DDR3 Memory |
| Storage | 64GB EMMC + 128 SD Card |
Last price update: 2021-01-20 01:58:49
Final Thought
Those are information I know about it. Gaming laptops under 500 dollars seem to be impossible for many users, but there are actually many difference choices as long as you want to spend your time little bit. Just take look at ASUS F510UA where it has NVIDIA 940MX that costs just for around 500 dollars. Like I said before, everything is possible if you want. The list above is containing my personal recommendations from my perspective. I placed the guides above, so you can decide which one is worth or not. Please, be a smart uses and pick the one that suitable to your needs. I just hope the information provided is satisfying enough on making the consideration. At last, thank you for reading the article and leave the comment below for further assistance. See you again next time.
Read also: Gaming Laptop $1,000
Guide to Buying a Gaming Laptop Under $500
This guide will guide you through the steps to buying the right budget gaming laptop for under $500. Buying the right product is essential to your online gaming success, and if you are on a tight budget, it may appear hopeless right now. Keep reading below to find out the information needed to buy a gaming computer for under $500 and still maintain the the great experience from the games you love to play. We will answer the people questions when they are making the same decision.
What is a Gaming Laptop?
While it sounds like a fancy term to drool over, a gaming laptop looks pretty similar to more traditional system. Its just a similar laptop which features different level of specification, features, high level hardware and illuminated back-lit keyboards or enhanced audio quality.
Portable devices explode in this price, and even laptops not marketed for gaming can run most of games. The overall performance the device you will use will depend on any kind of game you will play and the graphical setting that your games require.
Graphics Card
Typically computers that cost less than $500 do not have state of the art from the graphics cards. This does not mean you cannot use the computer for gaming, it just means you need to make some adjustments to the amount of information sent to the graphics card to create each image. In order to do this, you need to understand how your graphics card works within the CPU and how images are created.
This adjustment takes fine detail out of the image. An image with less detail is easier to handle by the graphics card to process and generate than an image that contains a lot of fine details, like texture on the wall in front of your character, images that are in the distance, and a reduction of movement lines when your character interacts with their environment. You may notice that spell effects on some games are not visible to you when you reduce the image quality that is being produced in your game.
Images on a computer are not true images. They are composed of small dots on the screen called pixels. The most common screen resolution uses over one million of these pixels. Every time an image is created on the screen, or a letter is added to the screen, the computer is required to make the decision on where each piece of the image must go for the pixels to create a picture. For this to case, the computer needs a translator, something to turn the binary code the CPU creates into clear picture that you see on your screen. Some computers have graphics capabilities built integrated into the motherboard, this is called an integrated graphics card. If the graphics card is not built into the motherboard, a separate chip called a discrete graphics card is needed.
The graphics card has a very complicated task. The various components are simple to understand and can take a degree in computers to understand. When an image is registered by the CPU, it works along with all of the applications it has available to turn the image into binary code. This code is then sent to the motherboard and then bounced straight to the graphics card. The graphics card must make instant decisions on how the screen's pixels will be used to place the image on the screen for the user. The image must be arranged, unscrambled, and then flashed up onto the screen for viewing.
In gaming, hundreds of images are required every minute. The quality of the graphics card and the computer's processor will determine how fast these images flash across the screen. Some games require high quality images with a lot of detail to be flashed across the screen rapidly to create the illusion of a character moving or running. This can put a lot of pressure on a high quality graphics card, so if you are purchasing a laptop for less than $500, you can be that the graphics card is not going to be able to handle the strain that gaming with high quality graphics can cause. If the graphics card is high enough, the images will appear as fluid motion. If the graphics card is not very powerful, the images will flash across the screen slower, causing what we call "lag."
A graphics card that is being overworked may try to put to many images on the screen at once, or may not be able to pull them down fast enough to provide realistic movement. The screen may appear distorted, and in some cases, the program generating the images can be forced to shut down the system in an effort protecting the graphics card from overheating.
If the graphics card in a given computer cannot render images rapidly, turning down the graphics quality in the game's interface can help speed up the rendering process. It does this by producing less detail in each image.
Turning down the detail in each image the goes across the screen does not affect the experience of the game, but it does reduce the vividness of each image. It will reduce the amount of texture on walls and in the character's environment. It also reduces what your character can see from a distance or called as viewing distance. By reducing the quality of images in the distance, your graphics card can save a lot of time for generating images faster, and creating a fluid appearance for game play.
While doing this may affect the quality of the image, it allows your game to run at the speed necessary to prevent lag and delayed image generation. Purchasing a computer with an integrated graphics card prevents you from upgrading your graphics card. However, if you purchase a computer with a removable graphics card, you can upgrade this feature later when you have more money.
You should also take the time to learn how your CPU works in conjunction with other components of your computer.

How The Computer Central Processing Unit Works
Most of the work a computer does inside the computer is processed through the processor. This is a component that you cannot see inside of your computer, and it does not look big enough to handle the job it carries out on a daily basis. The CPU takes information it is given and turns it into a complex set of codes, called binary code. This is a combination of 1s and 0s that the rest of the computer can read. It does so by using an large set of electronic circuits that carry out the instructions provided by each computer program. Every computer must have a CPU in order to function, even on a minimal basis.
The computer must be able to store the information it is using to run a computer program. It requires two different types of storage in order to function. The first storage unit is considered the hard drive. The CPU requires information from the hard drive, which provides instructions about how each program is to be used, what limitations it has, and how each action is to be carried out. The second type of storage is the RAM, which temporarily stores data that is being used and when it is no longer needed, the information is dumped.
The RAM only holds computer memory for a short period of time. This is when the CPU is executing the actions required to run the program. The amount of RAM your computer has determines how many programs the CPU can run, and whether it is able to run complicated programs like a video game.

Categories (By Price Range)
Gaming laptops are divided in three price ranges we can relate to- low, medium, and high-end. An excellent example, a low end gaming laptop is a notebook. These start at $750 and can reach between $1000 and up to $1500. In this price range, as long as the notebook has a dedicated graphics card, the computer can be a low end gaming laptop that can run games, but it must do so at a weaker graphics configuration. What matters is your choice is the CPU and GPU matter more than RAM, since a RAM upgrade will not increase your CPU or GPU chips, the reason most video games find the bottleneck in performance.
A gaming laptop that falls into the medium range includes any component that surpasses the $800 threshold. This is the point when you are ready to break into high-end gaming laptops, the best price range to search in starts at around $1,500. These can reach $3,000. Once you reach the $2,000 mark, better to transition to a desktop. The performance the one you are selecting will suffer in laptop form. This is the gray area of choosing a gaming laptop verses a gaming desktop.
The price you are paying compared to the performance provides a low ratio – not on your side. If you can buy equipment that falls into this price range, look for a processor that qualifies as a 7th or 8th generation Intel Core i7, and a NVIDIA GTX 10 graphics card. Your graphics card should have a dedicated GDDR3 or GDDR5 memory, a memory card with lower specs would be to incompetent to grasp the required data to develop graphic quality and video output you are expecting.
The purpose this explanation gives, most computers are expensive, so you should not feel any negativity about searching for a budget laptop. Brands like the Razer Blade series are worth the price that is being asked for them. The engineering put into their design and creation process is insane.

Who Should Have a Gaming Laptop?
Any gamer or users love to play games should have a gaming laptop. This is true if you need to have a portable computer that allows you to move from one place to another while you are gaming. College students, enthusiasts the LAN party, and people who travel will need to have a gaming laptop.
A gaming laptop is the primary weapon used by LAN parties. They allow college students to come together in groups and play games like Counter Strike and DOTA 2 on LAN. Everyone can pile in the room, yelling and screaming at one another as they combine efforts to wipe out a team on the other side the world. Can you imagine trying to set this up with desktop computers? It would be impossible.
Can a Normal Laptop Act As A Gaming Computer?
Yes it can! You do not have to have the best, or the most powerful computer on the market to join forces with your friends to take on the world. You can be a successful gamer with a normal laptop as long as the game is at least 3 or 4 years old. Many these games are light in graphics, so they don't need special components or specialized graphics cards. So yes, you can use much any laptop that uses an AMD Quad Core APU, so you can spend less than $500 for a laptop and have an adequate gaming laptop.
What You should Consider Before Buying a One
When you are considering your purchase, you should look for the following specifications. The specifications on your video game box are for optimizing graphics. They are the specs that allow the game to operate using high quality graphics, that is how the developer intended the game being played. Since you are shopping on a budget, you need to take into consideration how companies spend the money to their projects. If more money is focused on the inside the computer, and the components, you will not have a beautiful looking laptop. If you need your laptop to be attractive, you can purchase a hard case that clips on the existing computer shell. By having priorities in order, you can ensure that you will get a computer that serves the right purpose, and that you can be friendly with.
The reason I say friendly is, no matter how much money you spend on a computer, at least one thing will make your cringe about it. Just make sure the one thing you dislike about your computer is something you can live with in the long run.

Listed from most important to least important
GPU
– GPU is the absolute most important aspect of any gaming laptop, or desktop computer, the GPU is the graphics card. It is the computer "muscle" that runs the video game, which makes it imperative for you to purchase a gaming laptop that contains at least an NVIDIA GEFORCE GTX or better graphics card.
CPU – The CPU is the conceptual brain of a computer. A CPU increases the performance experienced in gaming and it increases the ability for you to multitask. You should make sure that your CPU is at least Core i7, which prevents the inevitable bottle-necking experienced in gaming. At the minimum, your gaming laptop will need an i5.
RAM – Purchase a gaming laptop with a minimum 4 GB RAM. An up-to-date operating system requires at least 2GB RAM to function. The rest of the computer's RAM is consumed by the game. If possible, you should strive for 8GB to 16GB RAM, or purchase a gaming laptop with at least 4GB RAM with the potential to upgrade later.
Display – For gaming, you should have a 14" display or larger. Gaming on a 13" screen is possible, but it is not ideal. Since the standard resolution for a video game is 1080p, the best visual performance is achieved with a screen that is 15.6" or larger.
Storage – Even with a gaming laptop, storage comes as one hard drive. Your hard drive should run at at least 5400 RPM. If possible, you should strive for an SSD + HDD combination. If this is possible, store your games on the SSD, and use the HDD for larger files.

Ready to Buy a Gaming Laptop Under $500?
Gamers have turned an inquisitive about mini-laptops. They are great little contraptions, and they are cute as cute can be. Gamers have asked on multiple occasions whether a mini-laptop would support their gaming habits. The convenience and mobility the computer, but also they are reasonable.
Mini-laptops is incapable of handling their own operating system. They do not operate well enough to load all aspects the system, causing them to be laggy to start with. If you tried to play a video game on one, they would either shut the program down, or the computer would crash to make the torture stop.
It is tempting to pick up the lowest cost computer on the shelf to save money, it is best to walk away from products that would not serve your purpose. The options introduced here are all under $500, and their capabilities are impressive.
These less expensive options are a great for saving money, satisfying your gaming habits, and for reducing the cost if something were to happen to your computer. Since the majority computers break close to their the end their warranty, these cheaper computers may allow you to negotiate your warranty, even if you have gone a little bit past the expiration date. They are inexpensive to fix, so the company would prefer to pay out a few dollars for repairs then lose a customer they know will be back for more products later on. They figure that if you are satisfied with your inexpensive computer, you will make the leap to a larger, more expensive computer.
Another benefit you have in negotiating your warranty is that you purchased a computer under $500, which shows you are living on limited resources. Companies take this into consideration when they analyze the situation.
When you are at the store browsing around for an inexpensive gaming laptop option, keep in mind that the associate will not know the complete specifications each computer offers, and he will not know how the components the computer function together. The associate is unable to provide you with adequate information in regards to whether the product can handle the game you will be playing. Most computers that have a decent hard drive and a decent graphics card will play popular games. All you have to do is lower the graphic settings inside your game's user interface, and reduce the resolution. This will allow your computer to generate more frames per second and create a more fluid movement.
Buying a computer involves making important decisions. By understanding your options and how the components a computer utilizes will work together, you can make educated computer based decisions. Since the computer's hardware determines how well it performs in certain circumstances, and understanding how graphics are managed inside your computer is beneficial.
If you are having a tough time, play with the graphics settings on your computer, and inside the video game to create the clearest picture, and provide you with the best video game quality that your computer can produce.
By making slight modifications, you can create a whole new experience with an inexpensive gaming laptop that cost you less than $500.