Well, not all of users want to spend more than 1000 to 1500 dollars for getting a newly branded laptop because sometimes what we are going to do is just including something related to low activities that never require much power and the low budget or mid end machine is more than enough for handling all of those kind of works. Buying a cheap device does not mean people should expect for something bad because for now there are so many great options in such an affordable price point. Many companies like ASUS, Acer, Lenovo, and HP compete each other in some points on trying to offer the most affordable and better option for the consumers. For under 500 dollars or even less, there are dozens of choices that equipped with Intel I3, I5 or AMD processor, 8GB RAM and 128GB SSD storage. Those specs are considered as neat in term of price to performance, and would be good enough for three or four years usage.
When affording a new laptop, you need to keep a good balance between functionality and price. It is okay to buy a cheap laptop, but if it cannot support your productivity needs, your newly purchased laptop will be a useless considering it cannot target your expectation. It is also useless to try to buy a powerful laptop if one cannot afford it. Some good affordable laptops are released at the beginning and nearly end of this year. They are good because each of them can mostly provide you some basic computing related needs and they are seems to be affordable compared to some of most mainstream laptops available now. Many of those laptops are Chromebook laptops, but Windows laptop is also included as long as you are fine with the low performance. They become favorite choices due to their high popularity among the reviewers and users, their light and slim chassis, and its portability. If you are searching for a reliable laptop that you can easily afford, this review will provide you some good affordable laptops that you can buy today.
The Top 10 Good Affordable Laptops December 2020
ASUS Vivobook F510UA

If you are looking for a laptop for these couple months, then you probably heard that many people will recommend you to get this one. With its affordable price, it actually brings many things that really impress me and I do not really know how the company makes it possible. The entire package is created from aluminum material and not plastic at all. The aluminum used here is not as good as what we see on the Dell XPS or Surface, but the quality is impressive for the price. it feels light, but also durable. The total weight for the body is only at 3.7 pounds and should fit any small bag without any issue. The silver finishing looks great and premium and I did not really see any bad thing from the design especially considering the price tag.
For supporting our productivity, the Intel I5 8250U will be your companion for a while. The 8th gen Intel processor is not only bringing better performance, but also less power consumption. It's more powerful like 70 percent more since the number of clocks is boosted into 4 and makes it Quad Core and not Dual Core anymore. Moreover, the Intel HD GPU is swapped back and replaced with NVIDIA 940MX that better in every aspect. It handles more demanding graphic application like Photoshop and Corel Draw better than I imagine. I was able to edit my photo without any issue on this product. I can even play of some games like Overwatch and Rocket League in acceptable performance. I mostly got around 50 to 60 FPS all the time with minimum setting on Overwatch, but the Rocket League is running better where it runs more than 60 FPS all the time. This should be your best choice, so prepare yourself and get it now.
| ASUS Vivobook F510UA | Main Specs |
| --- | --- |
| CPU | Intel I5-8250U |
| Graphics | NVIDIA GeForce 940MX |
| Display Size | 15.6-inch |
| OS | Windows 10 |
| Memory | 8GB DDR4 Memory |
| Storage | 1TB HDD |
Last price update: 2021-01-04 16:07:03
back to menu ↑
ASUS Chromebook Flip C213SA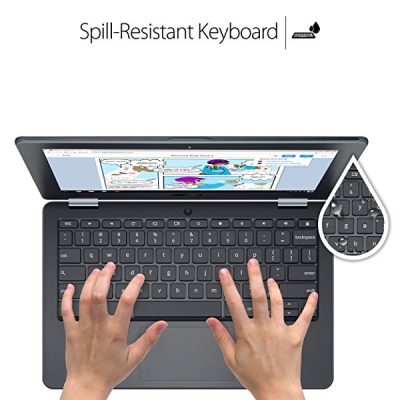 The Flip C213SA is specifically created with students in mind. Here, the package is completely redesign in order to make it not easily broken because as student we love to carry it around and sometimes something had is happened when we put it on our bag. The chassis was ruggedized with durable material and then covered with some kind of rubber surrounded the edge that will protect it from bumps and drops. The company said that it is able to handle drop from up to 3.9 feet, so I decided to test it by my own. Well, the result is really like they said in the marketing. I dropped it from 3.9 feet and the device is still working like it was. I noticed some scratches, but still look very normal. The build quality is the biggest selling point here and what most students looking for now.
On the inside, there is a small keyboard that sits nicely and waiting for you test it. The chassis itself is small and for this case they have to make some adjustment in order to fit it. Here, all of keys appeared in normal size with exception in some keys like navigation buttons that look small. Luckily, typing and finishing my document still comfortable although I need to get used with for a while. What surprises me here is the material that protects its surface. The keyboard is fully protected from water spilling. For some reasons, we love to put our drink near our notebook and sometimes we accidentally spill it into the keyboard. Now, you do not need to be afraid anymore as the water spilling surface will protect your machine from now. The battery will take you around for 10 hours in single charge and last for a day with light usage. I guess bringing the charger around is not necessary anymore.
| ASUS Chromebook Flip C213SA | Main Specs |
| --- | --- |
| CPU | Intel Apollo Lake N3350 With Dual-Core |
| Graphics | Intel HD Integrated Card |
| Display Size | 11.6-inch |
| OS | Chrome OS |
| Memory | 4GB DDR4 Memory |
| Storage | 32GB Flash Storage |
Last price update: 2021-01-04 16:06:52
back to menu ↑
Acer Spin 1 SP111-32N-C2X3

Do you find that many convertible devices are too expensive to afford? Then you have to make your way into this one. This is far the most completes 2 in system that available on this price. The packaging is not bad with silver finishing. The chassis is made from aluminum and not plastic at all. The 11.6 display is probably too small for some people, but the display is considered as one of the best one to find here. The display is colorful with brightness that totally bright. It produces huge amount of color and you won't notice any unnatural color or pixelated things here. Streaming the trailer from Wonder Woman feels wonderful with all details surrounded me. The company included of stylus pen in the package and fully supported by Windows Ink. The screen features of more than 1000 pressure level and still pretty much great for taking note and navigating through the internet with it.
Move to the performance, I think the Intel Celeron N3350 and 4GB RAM should be enough on handling any light and medium task like browsing to the internet and editing document in office application. The 4GB RAM can handle multitasking without any slowing down or stuttering during the process. The processor is coming from the Apollo Lake series that has just introduced by Intel. For the first time, the company completely redesigns their low end chip and the result is shown here. It's 30 percent more powerful than 28 thousands series that has been here for couple of years. I really have nothing bad to say here except for the internal storage. The 32GB storage is too small as the system already takes 10GB for the main operating system. The only solution here is expanding the storage with micro SD.
| Acer Spin 1 SP111 32N C2X3 | Main Specs |
| --- | --- |
| CPU | Intel Celeron N3350 1.1 GHZ |
| Graphics | Intel HD Integrated Card |
| Display Size | 11.6-inch |
| OS | Windows 10 Home |
| Memory | 4GB DDR3 Memory |
| Storage | 32GB EMMC |
Last price update: 2021-01-04 16:00:20
back to menu ↑
Microsoft Surface Go

There are not too many cheap detachable devices available right now. Here, I only found mainly 2 big companies that playing on this market. The first one is Lenovo with their Miix series and the second one is ASUS with Transformer series. But, few months back Microsoft announced they were going to release the cheaper version for Surface and now here we are with the new Microsoft Surface Go. As for the packaging, they have pretty much similar thing where people are able to take the display off from the keyboard and use it on the tablet mode. All of our important data are saved on the tablet and means we are not going to lose anything when detach it from the keyboard. Using it on the tablet mode is more comfortable here because the weight is light and easy to hold with my both hands. The whole packaging looks pretty similar to its big brother, but with few changes in hardware component.
The most important thing to see here is probably the display because most of them time people will use the tablet mode a lot. Here. The 10.1 inch screen is featured alongside with 1800 x 1200 resolution. The HD+ resolution is bad actually, but here I am going to make the exception because the size of the screen itself is small. Having it on 10 inch display is not that bad, but the thing is different when we see it on the 15 inch or even bigger one. The panel quality is pretty decent in color quality and brightness, and still looks comfortable for watching movies with all of your friends. There is a HDMI port available, so just plug it to the bigger screen when you want to do things in bigger screen. The device might be not really recommended for working in office environment, but great enough as secondary machine that you want to take on your travel as the weight and everything were designed for this case.
| Microsoft Surface Go 10 Inch Tablet | Main Specs |
| --- | --- |
| CPU | Intel Pentium 4415Y Dual Core 1.6 GHz |
| Graphics | Intel HD Integrated Card |
| Display Size | 10 Inch 1800 x 1200 |
| OS | Windows 10 Pro |
| Memory | 4GB DDR3 Memory |
| Storage | 64GB EMMC |
Last price update: 2021-01-20 01:58:35
back to menu ↑
HP Stream 14

The Stream series has been introduced by HP for many years and always successful on satisfying the consumers every year with new things. Now they are back again with few different things to look at. As for the design, the thing is not having any difference in comparable with previous model. It uses the same exact rounded and details all over the body. Different colors selections are back and the users can choose any color they prefer like the red, blue, and blank. The product mainly target students as the main consumers and that is the reason they provide the funky choices in order to get their attention. The marketing is actually worked where I see the blue one is most popular one among of all. The only different thing is basically the build quality that now improved especially on the hinge system that now sturdier than before.
For doing all kinds of activities, the Windows 10 is pre-installed as the main operating system. The system is almost free from any bloatware although few apps are not that useful and I recommend you to delete as the system storage is already small, so use it for regaining more storage. One thing that student would love here is the availability of the Microsoft Office 365 package that included here. The Office 365 brings more features than traditional Office version like Cloud save for saving our important document to the cloud and then access it anywhere. The users have to pay around 60 dollars if they plan to buy it separately, but here we totally get it for free without any extra price. The price tag for the product is already cheap, but HP manages to put everything without anything to sacrifice. I think this is the right time for swapping your old laptop with this product.
| HP Stream 14 Inch | Main Specs |
| --- | --- |
| CPU | Intel Gemini Lake N4000 1.1 GHz |
| Graphics | Intel HD Integrated |
| Display Size | 14 TN HD Panel |
| OS | Windows 10 S |
| Memory | 4GB DDR4 Memory |
| Storage | 64GB EMMC (Flash Storage) |
Last price update: 2021-01-20 01:59:44
back to menu ↑
Lenovo Ideapad 330 15IGM

The Ideapad 330 is the product that specifically made for business users that in tight budget. The price might be considered as cheap, but people should find many things that far better than its competitors. The packaging is so impressive here and showing it to your friend would never make you shame at all. The silver finishing really adds the sense of premium into it although the chassis is created from plastic. But, from the far you are not going to notice it from plastic because the finishing is really that good. The users soon notice it when they get in touch with it. The 15 inch screen is featured here and it uses of TN panel that commonly used here, so never expect any huge thing from it. The images qualities are mediocore, but luckily the viewing angle is top notch. The display can be adjusted into up to 150 degree and gives you better way on using it.
The rest of the parts or the hardware is pretty much similar. The Windows 10 is installed as the operating system that powered by Intel Celeron N5000 and 4GB RAM. The performance is sluggish and smooth because the lack of bloatware packed on the inside. The port connectivity is well complete with USB 3.0 for moving or transferring data in much faster way. Then, there are HDMI, 3.5 mm audio jack, and power jack for charging the system. The battery life is not a matter here and should run for up to 10 hours in singe charge. I tested by streaming HD movies and last for around 9 hours. Streaming video is more demanding and activities like browsing or editing document will give better result. Lenovo has done such a wonderful work on making it so well features, but still coming with cheap price.
| Lenovo Ideapad 330 15IGM | Main Specs |
| --- | --- |
| CPU | Intel Celeron Quad Core N5000 1.1 GHz |
| Graphics | Intel HD 505 Integrated Card |
| Display Size | 15.6 Inch TN HD |
| OS | Windows 10 Home |
| Memory | 4GB DDR4 Memory |
| Storage | 500GB 5400 RPM HDD |
Last price update: 2021-01-20 01:59:33
back to menu ↑
ASUS Vivobook 14 E403NA-US21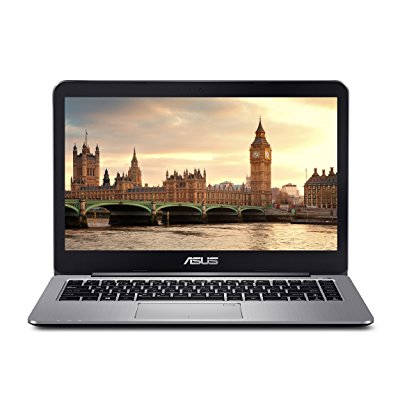 ASUS is always a dependable company for looking a high quality device in such a good price. The result is shown here where they manage to brings decent specs for under 400 dollars. The laptop build quality is impressive and feels so light. I was able to throw it easily into my small bag without any issue. The 14 inch display is big and I am sure you won't miss any important thing during your presentation thanks to its quality. Many competitors will give you an HD resolution, but ASUS is offering better choice by making full HD. The 1080p screen is one of the best to find here. It produces high amount of colors and the images look natural. The brightness is not too bright, but still dependable for outdoor activities without needed to push the brightness setting into the maximum.
The security is always becoming the main issue for people on buying the laptop. The company really knows about the case and providing better solution for enhancing the security. Here, they put of fingerprint reader that placed near the touchpad for login into the system without needed for any password. Just put one of your fingers here and the system is going to recognize it. The fingerprint is responsive and never fails to scan my ID. Having a password is not bad, but sometimes people able to just guess it because sometimes we use the same password over and over. The thing here is completely different as the fingerprint is impossible to duplicate. Moreover, the 128GB EMMC is fast enough to booting the system, so just turn it off for saving the battery and use the fingerprint to login. That is the best combination to have here. I recommend you to check it further and see how it works on you.
| ASUS Vivobook 14 E403NA-US21 | Main Specs |
| --- | --- |
| CPU | Intel Quad Core N4200 1.1 GHZ |
| Graphics | Intel HD Integrated Card |
| Display Size | 14 inch |
| OS | Windows 10 Home |
| Memory | 4GB DDR3 Memory |
| Storage | 128GB EMMC |
Last price update: 2021-01-04 16:02:27
back to menu ↑
Acer Aspire E 15 E5-576G-5762

The Aspire E 15 easily kills its competitors thanks to the hardware specification that is very promising. Just spend your money and be ready to get of 15.6 inch full HD screen, Intel I5 8th gen processor, and NVIDIA 150MX that basically the mobile version of GTX 1050. All of that hardware is available for under 600 dollars. The packaging is not that beauty, but people can expect on its performance. The 15.6 inch screen produces enormous of colors and great for video and photo editing. Trust me, the Intel I5 8205U and NVIDIA 150MX are able to do anything starting from the lightest thing like editing document to the most demanding activities like video rendering. The performance is so stable and I did not find any lag during doing my activities. The processor will automatically boost the power when it's needed.
For further test, I tested some of newer AAA games in order to test its power. The first game I test here is Overwatch. Here, I got stable up to 60 FPS at the lowest setting and still playable at medium setting with few drops during the matches. Then, I also made the test with Rise of the Tomb Raider and Battlefield 1 that gave the same result. For Battlefield, the FPS mostly stuck at 50 to 60 all the time whiles the Tomb Raider playable at 30 FPS. The result is fantastic and I do not really know that this cheap laptop will run of these games in acceptable performance. This is might be the cheapest gaming laptop to afford right now. Moreover, the parts like RAM and storage are expandable to your needs. If you think the 8GB RAM and 25GB SSD are not enough, then just open its back cover and replace it with the new one.
| Aspire E 15 E5-576G-5762 | Main Specs |
| --- | --- |
| CPU | Intel Core I5-8250U 1.6 GHZ |
| Graphics | NVIDIA GeForce 150MX |
| Display Size | 15.6-inch |
| OS | Windows 10 |
| Memory | 8GB DDR4 Memory |
| Storage | 256GB SSD |
Last price update: 2021-01-04 16:02:21
back to menu ↑
Samsung Chromebook Plus XE513C24-K01US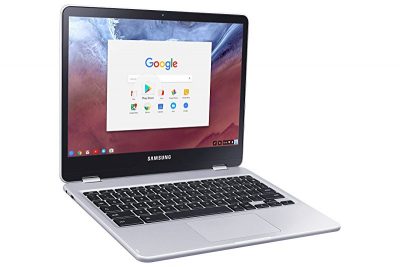 Samsung is not as popular as Acer or ASUS in this market, but they actually have few great lineups that worth to look at. The Chromebook Plus has more expensive price tag than most of Chromebook available right now, but it brings few things that would easily blow your mind. The aluminum chassis is durable and strong enough to handle high productivity. The convertible design allows you to transform it into multiple modes included of the tent mode for streaming or watching movies, the tablet mode for searching information through the internet and the traditional mode itself that useful for working. We receive three different modes in single system with single price. It brings the portability and productivity at the same time. The similar thing is impossible to find on traditional device and this is what 2 in 1 system always promises to their consumers.
When you open the lid, you soon find a totally bright 12.3 inch screen that blows my mind. The 2400 x 1600 resolution in smaller screen is better than I expect. I did not have any high expectation first, but it stuck me on many hours of using it. The images are natural and perfect no matter what kind content I see. The panel is bright and produces of 400 nits of brightness. For adding more experience, they even add the stylus pen that really useful for taking note on tablet mode. Many companies are forcing us to buy it separately and we get it here for free. I think we have no reason not to get tempted by it. The application support is still limited, but Google now allows us to install application and games from Android. Android has millions apps free to download. The compatibility kept improved day by day and I think this is the right time for you on trying Chromebook.
| Samsung Chromebook Plus | Main Specs |
| --- | --- |
| CPU | OP 1 ARM Based Processor 2GHZ |
| Graphics | Integrated Card |
| Display Size | 12.3-inch |
| OS | Chrome OS |
| Memory | 4GB DDR3 Memory |
| Storage | 32GB Flash Storage |
Last price update: 2021-01-04 16:05:31
back to menu ↑
Acer Aspire 1 A114-31C4HH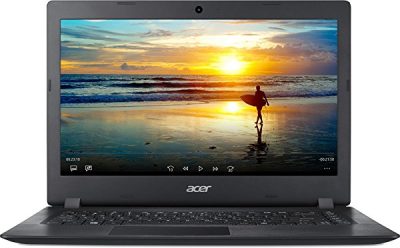 Our last choice here is going to be the Acer Aspire 1 that has received so many good reviews from both of reviewers and users mainly because of the specs that worth for than the price. People are finding it worth more than the price because everything is almost impossible to put here with the price. The 14 inch screen is big and it has full HD resolution. Many companies even have trouble to bring 12 inch with HD screen, but Acer was able to do better thing. The full HD screen is not the best to find now, but totally worth as now we won't stick with crappy display. Move to the inside, there is a decent keyboard that gives nice impression. The keyboard is shallow for some reasons, but still offering decent way for typing. The backlit support is nowhere to find and its normal as the similar products are not coming with it.
The only ways for the company on getting more money from their devices are by putting some third party applications into the system. Here, I found some of bloatware that quite annoying as it takes much of saves. Remember the storage is only 32GB and deleting all of these not useful things save much spaces. I still have no complain here as the price is already cheap. There is a version with Windows 10 S that fully free from bloatware, but it takes better price as return. It brings the same exact thing and only difference on the operating system. The 2 cell battery should last for up to 9 hours usage, but be prepare to bring the charger around as you need it more for now. Just remember to check it later and be surprised with the quality on it.
| Acer Aspire 1 A114-31-C4HH | Main Specs |
| --- | --- |
| CPU | Intel Dual Core Celeron N3450 2.2 GHZ |
| Graphics | Intel HD Graphic Card |
| Display Size | 14-inch |
| OS | Windows 10 Home |
| Memory | 4GB Memory |
| Storage | 32 GB Flash Storage |
Last price update: 2021-01-04 16:07:19
Final Thought
All laptops and Chromebook that we have listed above are great laptops that anyone can afford today. They are mostly fully designed to be ultraportable laptops with no bulky and heavy hardware components inside and some of them offer specs and features that you mostly prefer to enjoy. If your budget is limited but you want a laptop that is satisfying enough, users can pick any of the newly designed models provided above. Now it's the right time for you on taking which one is worth and bad for you. Put your needs on the top of everything and you soon find what you are demanding for. I just hope the information provided is good enough for you. Thank you very much for reading the article and please leave any comment for further assistance.